Duplicate Video Search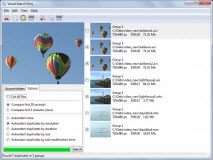 In our daily life, Our computers accumulate a lot of unwanted stuff, including duplicate video. Duplicates appear when you download similar video files with different encoding, and then forget to delete them or make a copy of an original video. It is known to us that an average video's size is about 1 GB. So duplicate videos are big space eaters. In a collection containing a small number of videos, it's not much of a problem. But as your collection grows to hundreds or thousands of video files you can waste terabytes of disk space.
Now, Duplicate Video Search makes deleting duplicates easy and fun. Duplicate Video Search allows for detecting duplicate video files on your computer, including converted, scaled, cropped, low, and high quality copies. It can easily find all your video files. You can detect the duplicates among them and present results in an easy, intuitively understandable form, ready for copying, movement or other management operations. With it, you can clean up your video collection, keep it well structured, and minimize wasted disk space.
At the same time, This Duplicate Video Search is better than other duplicate file finders. It uses advanced video fingerprinting technology, that allows to detect ALL video copies, including those converted to various video formats or having different quality and resolution.
Software Information
System Requirements
Version:
New

Windows 8/7/XP/Vista
1 GB RAM or higher
Intel/AMD at 2000 GHz or higher

License:
Free Trial , $19.00 to buy
Download Size:
4.14 MB
Screenshot:
View Screenshot
Rating:
Benefits and Features of Duplicate Video Search :
Easy file management
You can cut/copy/paste or delete any found file as easily as you do when using a file manager. You can also apply any of these operations to all unwanted copies with one click.


Detection of identical video duplicates


Detection of modified video copies
including varied resolutions, bit-rates, cropping, qualities and formats.


Automated selection of low quality copies for removal
When video duplicates are detected, you may want to delete some of them to free up disk space. Usually people prefer to keep a single, best quality instance of each video and remove the rest. Duplicate Video Search tries to help you with this task, by making an assumption about which video copies should be deleted and preselecting them, so you can delete them with a single click.


Wide range of supported video formats
The program is able to process AVI, 3GP, MP4, WMV, MPG, SWF, MKV, and FLV files, but you may first need to install the appropriate DirectShow codecs first.


Thumbnailed results list and video preview
In addition to showing the thumbnail, our program allows users to double click any of the found files to open the video in their default player.


RELATED SOFTWARE DOWNLOADS FOR Duplicate Video Search