FolderMatch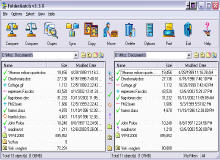 FolderMatch is an award-winning Windows utility which compares and synchronizes two folder trees or two files. it is a "must-have" insurance against loss of valuable data. Never again be stuck with out of date data. Never again lose critical information. FolderMatch ensures that the appropriate versions of all files are retained.
FolderMatch is a fast and easy way to stay in sync. Choose from any of eight different ways to compare your files - from the simple date/time method to the advanced 160-bit Secure Hash Algorithm. Differences are shown side-by-side in a graphical, easy to understand manner. Synchronize the files with a button click. Wizards guide you through the process.
There are many powerful options to choose from. Simple enough for a novice to use, yet feature-rich enough for a power user to exploit. FolderMatch is an ocean where a gnat may drink and an elephant may bathe.




Software Information
System Requirements
Version:
3.5.3

Windows 8/7/XP/Vista
Pentium II CPU
64 MB RAM

File Size:
6.83 MB
License:
Free to Try, $36.00 to buy
Screenshot:
View Screenshot
Rating :
FolderMatch feature list:
Supports HUGE files (> 4 GB)
Include/Exlude System and Hidden Files
Single-click auto synchronization
Guides through the process using helpful wizard screens
Checks for available disk space before all operations
Logs synchronization history
Allows for the creation of new sub-folders
Renames multiple files and folders
Synchronizes the dates/times of two files
Sets the date/times of multiple files
Handles NTFS and FAT timestamp incompatibilities .
Remembers the last 20 folders compared..
Offers choice of nine preset auto-Synchronization methods, or a user-defined custom method
Supports Copy, Move, Send to the Recycle Bin, and Delete Permanently operations for manual synchronization
Supports the following file systems: FAT, VFAT, FAT32, HPFS, NTFS, CDFS, and UDF
Compares files or folders (including sub-folders) between floppy drives, hard drives, CD-ROM drives, zip drives, and network drives (UNC paths supported)
Offers choice of eight comparison types: Filename Only, Size Only, Size and Date/Time, Contents, Attributes, Version Stamp, CRC32, and SHA-1.
Compares only files and folders that match Include and Exclude filter pattern lists which you define (wildcards supported)
Allows for user-specified number of bytes (chunk size) to be read and compared during a Content, CRC32, or SHA-1 comparison
Shows text differences between two ASCII text files, Microsoft Word documents, Excel Spreadsheets, RTF documents, or *Adobe PDF documents. (MS Word, MS Excel, and Adobe Reader not required)
MP3 Organizer: You can use MP3 ID3V2 tags to organize download folders by albums and artist.
Optimal Resource Management: After many iterations of optimizations, NewsBin now uses significantly less RAM than previous versions. You can now load large newsgroups with 10 million headers in about 150MB of RAM.
Image Database and Viewer: NewsBin includes an option to enable a database to store and search images. There is also a built-in image viewer.
Posting Capabilities: Post requests, short text messages, and files to the newsgroups.
Interface Customization: Move sections around and apply different color schemes to identify post status.
RELATED SOFTWARE DOWNLOADS FOR FOLDERMATCH*