Synchromat - file and folder synchronization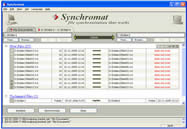 Synchromat is award-winning file and folder synchronization software for Windows. It combines bulletproof reliability and an extremely easy-to-use interface.
Synchromat synchronizes files among all your computers, and their local, network and removable devices, ensuring that you always have your most current files wherever you are. With just a few clicks, you can set up this powerful and reliable utility. Use it to synchronize your documents, photos, MP3 library, software archives, contacts, e-mail and any other data files. Unlike other synchronization applications, Synchromat performs true 2-way synchronization using a file metadata technique. The collected file metadata not only enables propagation of file and folder deletions to the synchronized folder, but also guarantees correct detection of file changes.
The multilingual user interface is available in more than twenty languages. It is really intuitive and instructive: just select the drives you want to link-up in the boxes at either side of the screen, then click "Analyze" to determine the relationship between the synchronization folders--what are the differences between them? Then, click "synchronize" to copy files as needed s o that synchronization folders have exactly the same content.
Software Information
System Requirements
Version:
5.5.8

Windows 8/7/XP/Vista
Pentium II CPU
512 MB RAM

File Size:
1.67 MB
License:
Free to try, $49.99 to buy
Screenshot:
View Screenshot
Rating :
Synchromat at a Glance:
Real two-way (n-way) file and folder synchronization
Synchromat performs true folder (directory) synchronization. File modifications and deletions are tracked in a database. Innovative algorithms do not rely on system clock accuracy. Supports virtually any file system.
One-way synchronization mode (backup/restore)
One-way synchronization can be specified. All target folders become exact (backup) copies of the source folder.
Synchronize multiple jobs at once
A sync job is a set of folders (two or more folders) you want to be identical. Synchromat allows you to have as many jobs as you need. Also you can do routine multiple-job synchronization with just one click.
Mutually synchronize any number of folders
You can select more than two folders for mutual synchronization. After synchronization, all the folders will have the same contents.
Automatic Synchronization
Synchromat has the ability to sync automatically when file changes are detected, a removable device is connected, a time period elapses, or when a user logs on or off. You can also use the Windows Task Scheduler to set the exact synchronization schedule you want.
Filter files to synchronize
Use advanced filter options when you need selective synchronization. Files and folders can be selected by name, path, attributes, modification time, size and more.
Synchronize over a network
Update and back-up files over a local network or the Internet.
Propagate file deletions
Deleted files in one synchronization folder are deleted in any other synchronization folder(s). You can turn this option Whenever necessary.
Synchronize with a removable device
Synchronize a removable devices (USB key, flash drive, CDRW) with a local drive. Get both the performance of local drives and the mobility of removable drives. USB key lost or damaged? Your local drive always has an up-to-date copy. Hard drive crash? Your removable drive has the most current version of all your critical data.
Synchromat Features
Free Trial Version download. No spyware, adware or malware.
Easy-to-use graphical interface.
Performs true bi-directional and n-way file and folder synchronization--forget about backup and restore routines.
File modifications and deletions are tracked in a local database. So, Synchromat knows the true history of your files--no unnecessary questions asked.
Our innovative, proprietary algorithms do not rely on the accuracy of the system clock or network connection quality. So, Synchromat helps prevents data loss.
Generates a full report of differences between synchronization folders.
Synchronizes folders as well. Synchromat detects when folders are removed from one device and removes them from any other corresponding synchronization targets.
Supports virtually any file system (FAT, NTFS, SAMBA, Netware, X-Drive, CDFS, UDF and more).
Capable of synchronizing more than two folders.
Synchronize data between your desktop PCs and laptops over a network.
A good way to backup and restore files if you run Synchromat in one-way mode.
Specify independent synchronizarion parameters for any number of sets of folders (multiple jobs).
Transfer documents from one computer to another using an intermediate removable drive.
Or just synchronize with a removable device (USB key, flash drive, CDRW, Zip) so that you always have your data with you.
Flexible configuration and customization.
Supports files of any size.