FlexiMusic Generator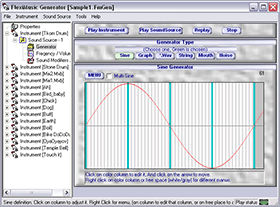 FlexiMusic Generator is a unique tool to create musical and non-musical sounds. If you want to create unique pieces of music and exciting new sounds never before heard on this planet, then you'll love our FlexiMusic Generator..
Define your own instrument choosing various generator types and parameters of sound sources. Add multiple effects to it. Use it for your samples or save instrument file (encrypted with password) and distribute to other musicians like a sound font collection. In this you can generate different types of sound with various algorithms using Graphs, Sine definition, wave, envelops, random, numbers, existing wave file, noise etc. This can follow defined duration, using varying frequency-graph and volume-graph. And apply sound modifiers to it to enhance it. Create your own custom music instrument and generate various unique sounds using endless combinations.




Software Information
System Requirements
Version:
Oct 2007

Windows Vista/Xp/2000/Me
300MHz Pentium Processor
64 MB RAM (or higher)
10 MB Hard disk

File Size:
2.83 MB
License:
Free to try, $20.00 to buy
Screenshot:
View Screenshot
Rating :
Some of the features are listed:
If you are looking for a very special piece of software to create musical and non-musical sounds, use FlexiMusic Generator.
Sounds: FlexiMusic Generator has three steps of generating sounds: Instruments, Sound Source and Sound Modifiers/Effects.
Instrument: Merging / Mixing a few sound sources to create a rich musical instrument.
Sound source: Defining / Creating / Choosing your own single piece of sound.
Sound Modifiers (Effects): An effect is the modulation or modification of an audio signal to make it sound more interesting.
Unlimited number of Instruments can be made in one generator file.
Sound Source has Generator and Frequency / Volume Graph.
Generator: Sound Source has six types of generators: Sine Sound Source, Graph Sound Source, Wave Sound Source, String Sound Source, Mouth Sound Source and Noise Sound Source.
In Frequency / Volume graphs create random shapes to get different sounds.
Unlimited Sound Sources: There is no limit to the number of sound sources you can have in an Instrument. Add as many as you think your sound requires.
Multiple "Sound sources" are merged together to create a combined, rich musical Instrument.
Changing the Frequency / Volume Graph for sound source type is available.
Many effects: Volume and Pan, Equalizer, Echo, Wave on Wave, Reverse etc...
Voices: Add special effects to a voice, producing special voices like robotic, synthetic, and more...
Keys/Pitch Changing: Using one Instrument, multiple compensated sounds can be produced by giving different compensation factors. You can vary the frequency/pitch and duration.
The sound generating source file can be encrypted with password and saved with another extension name (*.FmIns)
Encrypted Instrument file (that you can distribute to others); one can play with various compensations (like playing various keys) and save different sounds as needed for their music samples.
The output sounds can be saved as WAV files (*.WAV).
Clean and easy-to-use interface.
Who can use it?
Digital musicians, composers, producers, sound engineers and those who wish to produce musical and non-musical sounds without conventional musical instruments.
Amateur Musicians can produce simple musical sounds easily, making use of easy to use features.
Professionals can create special sounds and distribute them to others, saving them as small, encrypted files.
Game developers who need to generate special sounds.
RELATED SOFTWARE DOWNLOADS FOR FLEXIMUSIC GENERATOR