Advanced Call Center - Answering Machine Software

Advanced Call Center is a full-featured, advanced, yet simple-to-use answering machine software with Caller ID for your voice modem. It turns your computer into a technologically advanced answering machine. All necessary functions are supported: Caller ID lets you see and hear who's calling via screen pop-ups, distinctive rings, call recording, and caller's name announcement with speech synthesis. "Black" and "white" list functions filter calls based on caller database, call origin and other parameters.

You can map personalized greetings to callers, organize information in phone books and record conversations.

Advanced features include pager notification, sending call details and voice messages over e-mail, and starting an external fax program when an incoming fax call is recognized.

Tightly integrating voice modem with the sound card, Advanced Call Center offers a feature that leading competitors do not - real time voice transfer from telephone line to PC sound system, so you don't need an extra speaker attached to the modem! Runs as a tray application when idle, uses minimum system resources, and automatically frees the modem for an Internet connection. Lastly, Advanced Call Center looks just as great as it works!


Software Information
System Requirements
Version:
5.7

Windows 8/7/XP/Vista
Caller ID capable voice modem or telephony device connected to your telephone line
Call Display service from your telephone company recommended
Sound card and connected speakers recommended

File Size:
2.21 MB
License:
Free to try, $39.95 to buy
Rating :

More Information:

Advanced Call Center utilizes your modem and Caller ID detection (also known as Calling Number Delivery) to identify incoming telephone callers. Caller ID is a service that lets you screen your calls, so you only answer the call when you want to.

The program supports Caller ID systems used in the US and Canada, the United Kingdom (British Telecom), Australia and New Zealand.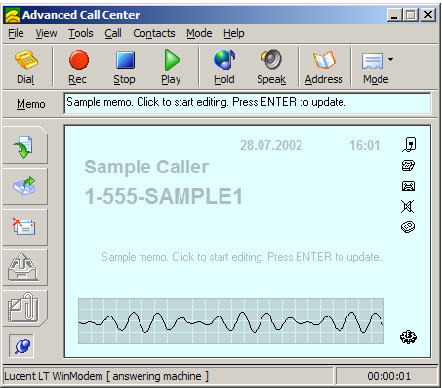 The program maintains a telephone number database including custom sound alerts for a caller, as well as other caller's details. It provides a per-caller customizable ring alert sound and a pop-up window to notify you about an incoming call.

Call can be accepted or rejected by you or by the program itself. You won't even hear rings from blacklisted callers, once they are identified. The program is able to block unwanted calls, including blocked (private) numbers, out of area calls and those calls that were not identified.

Advanced Call Center works with Number Only Caller ID service as well as with Name and Number service. It is able to match the phone number against names that you store in a phone book. This allows users with Number Only Caller ID to see the name of the caller or substitute Caller ID name with more readable one.

Built-in Address Book

Once you have entered the details in the Advanced Call Center Address Book, every time you receive a call, their name and telephone number will appear. You will hear a distinctive ring pattern once you assign that caller a unique ring sound or melody. You can even block an unwanted caller by automatically redirecting calls from that telephone number to the answering machine.

Smart Software Answering Machine

Advanced Call Center features extensive call answering capabilities. Incoming calls may be recorded and saved to a WAV file, which can be played back by the program or the standard Windows Media Player / Sound Recorder. You can monitor the current conversation through the sound card.

When the telephone rings, Caller ID information is received as a series of special codes after the first or second ring. The program attempts to match the caller's identity with it's internal database. Depending on the caller's status (White listed, Normal or Black listed), and group options set, the call can be routed to the answering machine, answered normally with the handset, or even dropped immediately. Individual entries in the database can be assigned personalized greetings.

In telephone answering machine mode, callers hear a greeting message and a beep after which they may record a voice message. The allowable recording time can be adjusted from a few seconds to several hours. When a caller disconnects, the program stops recording and hangs up. Greeting messages can be customized depending on per-caller basis.

The program can record all or part of the conversation to a sound file, and play it back to the recipient or through the local sound card at any time.

There are several actions that can be assigned for every type of calls: hang up/do not answer, block the call (your telephone stops ringing), answer immediately or after specified number of rings, record message or start answering machine sequence; set caller on hold and play music. It is possible to set up the program to record all incoming calls and every call originated from within ACC.

Remote Access to Messages

It is possible to control the answering machine remotely. Remotely available actions include message retrieval, leaving a message, changing the default greeting, and more.

Recorded answering machine messages can be heard remotely from any touch-tone telephone via Remote Retrieval function

Call Forwarding

Advanced Call Center is able to notify the user about an incoming call via numeric or alpha-numeric pager and/or via e-mail. E-mail announce can include full voice message left by remote party to the answering machine as a wave file. It is possible to forward different callers to different e-mail addresses, or selectively block paging or mailing of a caller.

Voice Announce

The program can announce call details in voice. When someone calls in, their name and/or telephone number will be announced by computer's voice. This is useful if you are in another room and wish to know who is calling. You can then choose to answer or not.

Features List
Caller ID software
Answering machine software
Phone dialer and phone book
Background operation in system tray
Identifying Who's Calling
Caller ID informs you of who's calling before you answer
Three types of incoming calls: white listed, normal and blacklisted
International phone numbers and dates supported
Custom formatting of telephone numbers and Caller ID names capitalization
Audible warning when incoming call is detected
Custom individual Greetings and Incoming Ring sounds for each caller
Complete history of all calls received or made
American, British Telecom, DTMF Caller ID and Russian ANI support
Message Notification
Text to Speech voice announcements let you know who's calling when you're away from the computer
Notification of a new call via e-mail or pager
Numeric and alphanumeric pager support
E-mail call forwarding, including the voice message
Multiple variants of visual notification, including two types of pop-up dialogs, a tool tip window, and mail window activation
Answering Machine Software and Telephony
Standard wave files input/output
Custom greeting messages for each specific caller
Call screening capability: the program can use a sound card to allow you screening incoming calls as they occur
Playing back modem-recorded messages through your modem or sound card
Programmable answering machine functions
'Hold line' feature with custom message or music played to the remote caller
Optional full automatic recording of each phone call (incoming or outgoing)
Full remote access to recorded messages from any touch-tone phone
Managing Your Contacts
A powerful built-in Phone Book including telephone number database
Unlimited number of contacts
Database Import/Export capability
Three types of incoming calls: white listed, normal and blacklisted
Dial-out Capabilities
Ability to place calls using the modem dial-out features
Tone and pulse dialing
Auditioning the outgoing calls made using the program
RELATED SOFTWARE DOWNLOADS FOR ADVANCED CALL CENTER - ANSWERING MACHINE SOFTWARE