NetRouser 2 Professional Edition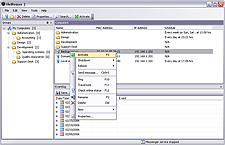 Netrouser 2 Professional enables you to remotely activate, shutdown and reboot networked computers that support Wake On LAN. It can be used for manual Wake or Reboot/Shutdown, as well as for scheduled operations that allow you to activate, shutdown or reboot a computer on a daily, weekly or monthly basis. You can also group multiple computers into categories and apply a schedule of action to all machines in the same group.







Software Information
System Requirements
Version:
2.0.0.238

Windows NT 4/2000/XP/2003
Processor:Intel Pentium II/AMD® equivalent or faster
Display resolution 800 x 600 pixels or higher

File Size:
Full version: 1.5 MB
License:
Free to try, $130.69 to buy
Screenshot:
View Screenshot
Rating :
The NetRouser 2 Professional Functions :
Netrouser uses a flexible and easy to use Graphical User Interface (GUI) which can be customized to suit your preferences. Using a comprehensive display, Netrouser gives you a clear overview of your database.
You can customize the look & feel of NetRouser by adjusting the display style. Colour Themes enable you to increase the display's efficiency by using your own preferred colour combinations. The toolbar can be fully customized and the Groups treeview can be hidden or partially hidden from the screen.
NetRouser 2 makes it easy to manually activate, shutdown or reboot one or more computers. You can also automate this process using the flexible and powerful scheduling options. You can schedule computers to be activated, shutdown or rebooted at any given time on a daily, weekly or monthly basis. A customizable network send time-out allows you to spread the generated network traffic. Instead of activating all computers in a single "burst", the send time-out adds a delay between each computer activation, preventing network congestion.
NetRouser 2 ships with a Windows® NT® service module, which executes scheduled activations in the background. The service's startup type can be set via the NetRouser options or using the Windows® Services manager.
New in NetRouser 2 is the ability to shutdown or reboot networked computers. You can specify a message that will be displayed on the target computer's screen for a customizable maximum amount of time, after which the computer will be shutdown or rebooted.
To help you troubleshoot network problems, NetRouser 2 includes two built-in network diagnostic tools: Ping and Traceroute. These tools are essential for troubleshooting network connectivity and reachability.
RELATED SOFTWARE DOWNLOADS FOR NETROUSER 2 PROFESSIONAL EDITION