Letter Chase Typing Tutor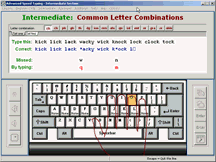 Letter Chase Typing Tutor is a complete typing program for all levels. Letter Chase touch typing software runs on all versions of Windows and works on most networks. With Letter Chase, it has never been easier to learn to type! Beginners to touch typing are guided by animated hands to learn the keys. Even young kids can learn the keyboard with Letter Chase, making it ideal for schools and educational institutions (many elementary and high schools are Letter Chase users), as well as corporate training (keypad training included with the program). Experts learn how to become masters of speed typing. Home computer users also benefit from learning the touch type method. No more hunt and peck, two finger typing. Within days you can memorize the qwerty keyboard and go on to developing speed. Letter Chase Typing Tutor is a master at teaching speed typing. Two unique lessons will have you up to speed faster than any of the other typing courses, and with greater accuracy.



Download Trial 1.39 MB
Software Information
System Requirements
Version:
5.1

Windows 98/ME/NT/2000/XP
Pentium or similar processor
64MB RAM

File Size:
1.39 MB
License:
Free to try, $19.40 to buy
Screenshot:
View Screenshot
Rating:
Letter Chase Features:
All immediate family members can use Letter Chase and print and save to file charts of their progress. Charts will automatically be saved with the present user name and the date included in the chart title.
In the Beginners Section, transparent, animated hands will guide you from home row to the letter to type. This will help you pick up on the direction and distance of the keys from the home row position.
An Intermediate Section is included. With it you can practice words with commonly used letter combinations (ing, qu, ion, etc.). You can instantly pick the combination you want by clicking a speed button. The file will automatically go to the place you choose. Also, you can practice phrases or simple sentences. The animated hands are still used in the intermediate section.
The Advanced Section allows you to practice with four lines. Your practice will be more realistic and a more accurate WPM score can be calculated.
The Letter Chase section is unique to computer typing tutorials. The letters appear at an adjustable WPM rate of speed. The challenge is to set it slightly faster than you can normally type and then try to catch up. The speed adjuster can adjust to any WPM rate you want regardless of the speed of your computer.
Another unique feature called "Word Sweep" places words on the screen for a limited amount of time (this is adjustable). The purpose is to teach you how to type the most commonly used words in the English language as quickly as possible.
Speed tests are provided so you can monitor your progress.
What Letter Chase Users Are Saying!
I downloaded and registered for Letterchase about a month ago anticipating a nerve-wracking typing test I would have to take for my job. Although I already typed well above the score I needed to pass, I knew I would have to overcompensate significantly to make up for the inevitable attack of the jitters. They came, of course, but my skills were so high, I passed the test well over the mark. This program works. I will recommend it to everyone I meet who needs to improve their typing speed. Thank you very much for putting this outstanding program together and making it affordable.
Jill in Athens, OH

---

Hi,
Tried as you suggested and the shortcut now works. Sincere thanks for your prompt response and solution to the problem. Oh Boy!!!! If only all developers would provide such prompt resonses, one might feel a hell of a lot more confident about some things offered on the WWW. Thanks again !
Regards Col

---

Dear:
I have been using your typing program now for several months..and I must say that it's great!! I have increased my speed from 61wpm to 87wpm. You can bet there will be a check in the mail for you. I am sending you 10 dollars for the use of this program ...I LOVE IT!!!! From a very enthusiastic user ...
E. Smelser

---

Hi; I'm Sam, I can type as fast as 80-85wpm with no errors. Up until now, I never found a program that could keep up with my speed. I find your program to be very useful in many ways. You really hit it guy! I really like this program, now I can continue to raise my speed even higher. Your program already brought my speed up to 92wpm no errors (107 with errors). I'm trying to hit 110wpm for now, I'm sure with your program I can achieve this speed.
A very satisfy typist ...
Sam P.

---

I love your Letter Chase typing tutor. I downloaded it a long time ago and then accidentaly deleted it. I have been trying to find a freeware program ever since. I found it about 2 months ago and since then I have increased my wpm from about 25 to about 70. I would pay you but I'm a student. Your program is better than the one I was about to buy.
Ravi