NextSpeak - English TTS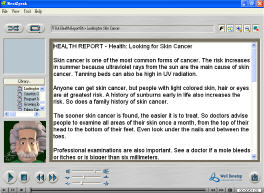 NextSpeak - English TTS is your private English tutor which adopts the most sophisticated Text-to-Speech techology from NeoSpeech. Not only the pronunication is accurate, the intonation is closed to human quality.
With NextSpeak - English TTS, you can easily convert text content in English from Word, Outlook, Adobe Reader, webpage... etc. into fluent human voice or MP3 files.
With NextSpeak - English TTS, you can freely convert any text in your PC to English waveform. By adjusting the speaking rate with your learning pace, you can quickly grasp the right pronunciation of different words. English teachers can make use of the user-defined IPA pronunciation to demonstrate to your students how different vowels or consonants change a pronunciation. Some researches find that: intensive listening to recorded tapes can improve the English of foreign student and children suffering from dyslexia. "NextSpeak - English TTS" is target for different level of English learners and is a must-have tool for English learners and teachers.




Software Information
System Requirements
Version:
3.0

Windows Vista/XP/2000
Intel Pentinum III 700 or above
512MB RAM
2GB Hard Disk Space or more
CD-ROM Drive

License:
Free to try, $49.95 to buy
File Size:
204 MB
Screenshot:
View Screenshot
Rating :
Main Features of NextSpeak - English TTS:
Support User Defined IPA Pronunciation
Chinese Traditional, Chinese Simplified and English User Interface
Pitch, Rate and Volume Control
Support SAPI 5 Interface (you can add new voices)
Export to MP3 format
Random Playback or Loop Playback
Support Speech Mode and Spell Mode
NextSpeak - English TTS Office Add-in
Support Clipboard Capture
Support Speak out of webpage
Library Management functions
Lip-sync with animation icons
Zoom-in and zoom out
Support Speak out of PDF format (English Content)
Bonus Includes NextDict multi-lingual dictionaries
Key Functions of NextSpeak - English TTS:
Pitch, Rate and Volume. Users can adjust the pace according to his/her level.
Precise control on line break adjustment. You can group commonly used phrase into a file by topics (e.g. Travel, Selling) for practice.
Lip-sync with character animation during the speaking out of the content so that you can easily follow the pronunciation.
Text zoom-in and zoom-out that help to enhance the usability for senior and visually impaired users.
Export to MP3 to allow frequent commutator to best utilize their commutation time to improve their language skill
Unicode compliant and truly multi-lingual supporting English, Chinese Simplified and Chinese Traditional.
Support "Speech" and "Word by Word" play mode to address different needs of advanced learner who would like to further improve their speeching by emulating professional intonation and new learners who need to learn the exact pronunciation of each word.
Library and content management function to make practice as easy as possible. Frequently access content can be grouped into different category for easy playback.
Support Random Loop playback and Sequential Loop playback so that you can practice without hand-on control.
Support speaking out of website content * Support Clipboard capture so that you can easily cut-and-paste content from different applications, such as Word, Powerpoint .. into PuTongHua MP3 for speaking out.
Closely integrate with NextOffice. Now you can simply drag the "PuTongHua MP3" icon from gallery into your presentation slide. Then simply click on the "PuTongHua MP3" icon and your presentation content will be speak out with professional voice.
Support user-defined pronunciation definition.
Bundle with NextDict to facilitate you to search the word meanings in your document.
Use SAPI 5 Interface. You can add your own SAPI compliant voice
RELATED SOFTWARE DOWNLOADS FOR NEXTSPEAK - ENGLISH TTS