BonesPro plug-in for 3D Studio MAX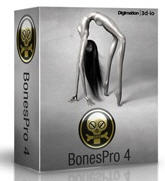 BonesPro plug-in for 3D Studio MAX is a sophisticated, fast and optimized technology for organic skinning of characters and objects in Autodesk 3ds Max. It allows you to create high quality skin meshes rapidly with easy-to-understand bone influences and vertex assignments, impressive real-time skin-deformations and special-effects.
BonesPro offers now an effective selection enchacement with its integrated soft selection for vertex-based weight adjustments. This enables artists to fine tune the weights in critical areas in a way that blends smoothly into the surrounding mesh and avoids undesired rough wrinkles of the surface.
BonesPro 4.52 delivers a simple solution to transfer all Vertex Weigths to Skin and from Skin back. This makes it possible to immediately use existing exporters, file formats and game engines that have support for the default Skin modifier.

Download Trial 10.8 MB
Software Information
System Requirements
Version:
4.61

Windows 8/7/XP/Vista
Microsoft .NET 2.0 installed

License:
Free to try
Screenshot:
View Screenshot
File Size:
10.8 MB
Rating :
Key Features of BonesPro plug-in for 3D Studio MAX:
Speed
BonesPro delivers fast results through a quick assignment set-up and convenient adjustment options.
Quality
Meshes deform like elastic skin, avoid face clipping and don't tear vertices too far apart from each other.
Flexibility
Hypodermic deformer objects can handle the most problematic areas in an animated mesh with ease.
Teamwork
API access allows integration into existing pipelines and Teams can collaborate on scenes without having to supply everyone with licenses.
And Beyond
BonesPro can not only be used for traditional character skinning but also for many specialized animation effects.
Installer improvements for service updates and Windows7 support.
Accuracy for certain mesh deformation calculations increased. This now generates generate smoother deformations.
Soft selection options added to improve vertex-based fine tuning workflow.
Converter to/from Skin modifier.
License validation more responsive.
Various minor improvements.
RELATED SOFTWARE DOWNLOADS FOR BONESPRO PLUG-IN FOR 3D STUDIO MAX