System LifeGuard 2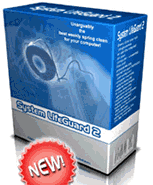 System LifeGuard 2 is the complete solution for the protection and management of your PC. Every time you run programs or use the Internet on your computer - unwanted files and procedures are stored on your hard-disc. Just using your computer normally, accumulates old material that begins to slow down the operation of your hardware and software. System LifeGuard makes it easy to blow away the cobwebs and keep your computer running like the day it was new. It is designed to be used frequently - to protect your computer's data and activity - and to keep your system running as smoothly as the day you took it out of the box. Its many easy-to-use features will help you: find and delete junk and duplicate files; organize your data; clean your registry; fully uninstall unwanted programs; empty temporary folders; find and remove invalid links and protect your Internet privacy.






Software Information
System Requirements
Version:
2

Windows 8/7/XP/Vista
Internet Explorer 5.0 or higher
Pentium II CPU
512 MB RAM

File Size:
3.20 MB
License:
Free to try, $29.95 to buy
Screenshot:
View Screenshot
Rating:
System LifeGuard Features:
Cleans your hard disk files making your PC run better and faster without crashes!

Thoroughly uninstalls your unwanted programs!
This tool uninstalls your unwanted Windows Programs. Here you will also see programs with invalid entries - so you will be able to remove them.
Registry cleaner to clear invalid registry entries!
Registry Cleaner will clear your registry of invalid entries, which will produce a better working environment for running Windows on your computer.
System tweaker to fine-tune basic functions of your computer!
System Tweaker has been designed to be self-explanatory and gives you easy control over some primary basics of your system. You can easily alter the blink-rate of your cursor - block desktop icons - edit the functions of your control panel - and many other adjustments that will allow you to choose exactly how you want your computer to be set up for your ease of use.
Internet privacy to clean internet history, cookies and cache(keep your downloads and visited web sites private)!
System LifeGuard will remove all traces of your internet activity - so protect internet privacy - with the added bonus of freeing-up large amounts of disc space.Internet temporary files are very space hungry.
System backup & restore with a FTP backup option!
Backup your data section offers two possibilities to create the backup of your data: Backup Local (on the same computer, a different location) or Backup Remote (on a FTP server).
If something happens to original data (and original data is lost/damaged) you can use System LifeGuard 2 Restore Files function to restore your data from the backup you've created.
Organize your data and time!
System LifeGuard 2 offers a Scheduler that can help you better organize your time and data. You can schedule specific tasks for the date and time you want it to run. The tasks included in the Scheduler are: Registry Cleaner, Internet Privacy, Folder Cleaner, Application Launcher and Junk files cleaner.
Startup manager
System LifeGuard 2 offers you the Startup Manager so that you can decide what applications to run on your computer at Start Up.
System LifeGuard 2 offers you the Shutdown Manager so that you can set your computer to shut down periodically.
Disk Defragmenter is a tool that helps you optimize the way your disk space is used to store files.
Disk Defragmenter analyzes local drives and consolidates fragmented files and folders so that each occupies a single, contiguous space on the drive. As a result, your system can access files and folders and save new ones more efficiently.
Shred all unnecessary files
System LIfeGuard 2 offers now the possibility to shred all unwanted files: you can permanently remove the files you want without leaving behind any chance of recovering those files!
More Screenshots - Click each image to enlarge!
RELATED SYSTEM OPTIMIZER SOFTWARE DOWNLOADS