Window Power Tools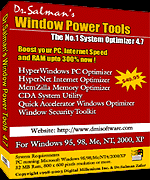 Window Power Tools is one of the best software around to combat system slowdowns. Keeps your computer running like new, makes it "Fast and Stable" with a single keystroke!
Window Power Tools is the safe, effective, and easy way to boost your system's performance!
The program optimizes Windows GUI to make windows run faster, it also makes your Internet connection faster and decreases downloading time. It optimizes Modems, LAN, DSL, Cable, ISDN, T1 and Satellite connections. The modem dialing speed is boosted to three times as fast. Windows Start menu and popup menus speed up by four times. It also Defragments RAM, prevent memory leaks, decreases window crashes by 80-90%, provides a memory monitor, recovers precious wasted RAM to give your system the just booted feeling. It will keep your system running as smoothly as possible. It supports RAM Cleaning of up to 1GB of RAM for home PC's to large-scale servers. Another amazing feature is that it increases the Available Ram by 60-70%. In addition the program gives Windows over 51 powerful security and anti-hacking features restricting access to control panel, system settings, memory settings, display controls, desktop settings, etc.

Window Power Tools includes the most popular Six Optimization Tools HyperWindows, HyperNet, Quick Accelerator, MemZilla, CDA and Window Security Toolkit. Window Power Tools provides complete optimization for your PC, RAM, Windows & Internet connection, optimizing LAN, 33.6, 56K Modem, DSL, ADSL, Cable modem & ISDN connections, providing speed increases of up to 300%.




Software Information
System Requirements
Version:
5.0

Windows 9x/Me/NT/2000/XP/2003
Internet Explorer 5.0 or higher
4 MB of Hard disk space
64 MB RAM or higher

File Size:
5.38 MB
License:
Free to try, $49.95 to buy
Screenshot:
View Screenshot
Rating:
Key Features of Window Power Tools :
Optimize Internet and Boost your Internet Speed up to 300%
Make your PC Faster and Increase Windows Speed up to 200%
Get More RAM and Free up wasted Memory up to 70%
Get better stability and Prevent System Crashes
Secure your PC and prevent Hackers from Attacking it
Fine Tune your System for Optimal Performance
Six Powerful Tools:
Quick-Accelerator -- Using this Tool can Speed up the Window Start menu and Popup menus by four times and also add a Dos Mode extension to every folder in Windows Right click Popup menu, so that the change directory (CD) command is no longer required.
Security Toolkit -- This Program Gives Windows 51 Powerful Security features and Anti Hacking Features, such as Restricting access to dos, games, Control panel, System settings, memory settings, display controls, desktop settings and a lot more. This tool is ideal for system administrators.
HyperWindows -- This program Updates and Optimizes the Windows GUI and Win32 Matrix Core Settings which makes Windows Run faster.
MemZilla -- Recovers Wasted RAM, defragments it, prevents memory leaks and optimizes system for better performance. This program also minimizes system crashes due to insufficient memory or due to memory leaks by 80-90 %.
CD Anti-Nuisance -- This program makes installing Window Setup drivers and files easier.
HyperNet -- This Utility Fine-tunes various Internet Settings to make the internet connection faster and to decrease the downloading time. It also makes the modem dial thrice as faster. It supports modems, LAN, DSL, ISDN, Satellite and T-1 Connections.