System Memory Boost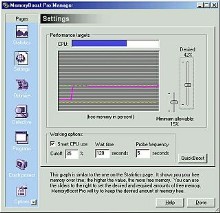 Memory is the most precious resource in your computer. It's very fast; that's where all your computer's work is done. It's also very expensive; you probably have a hundred times more hard-drive space than you have memory. As long as you have free memory in your computer, your programs can run at top-speed. When your memory runs out, your computer has to use the hard disk as "virtual memory," which slows your computer down tremendously and can cause crashes.

System Memory Boost actively maintains your free memory. Programs let objects (or data) leak into memory while they run, and never reclaim them. Almost all programs do this. Over time, no matter how much memory you have, your memory will dwindle. System Memory Boost reclaims leaked objects for your computer; it sweeps memory to find them, and then moves them out of memory. System Memory Boost can keep your memory level safe indefinitely; Windows will not do this on its own.

System Memory Boost also watches a very special part of memory called the system resources. You can read the system resources article to learn more about them. This special memory is crucial to the operation of your computer; when it runs out, your computer will become very unreliable and probably crash altogether. System Memory Boost watches the system resources and warns you before something bad happens. This can help you avoid the single greatest source of computer crashes.

System Memory Boost is engineered to run inconspicuously. When System Memory Boost is running, you may not even notice that it is there. On computers with a modest to medium amount of memory, System Memory Boost may make an immediate impact, helping your computer to run faster instantly. On computers with a large amount of memory, you may only notice the difference when you're hard at work and have been working for a while. No matter how powerful your computer, or how much memory you have, your memory is always being lost. It's just a matter of time before it becomes problematic; System Memory Boost strives to keep this from happening at all. In many senses System Memory Boost is like an insurance policy. You may not think of it much while it's running, but when something goes wrong, it may make a world of difference.

In total, System Memory Boost seeks to improve computer performance and reliability by managing your memory. On some computers, the effect will be instantaneous and noticeable; on others, it may occur gradually over a period of time, making significant contributions only when the computer is under stress or has been running for a long time. Stability and performance are very important to all computer users, no matter what their interests or applications or level of expertise. System Memory Boost tries to address both of these issues in a way that is accessible for everyone.

Speed Up Computer: Your computer is not running as fast as it should. Software takes up memory when it runs, and then doesn't give it back, slowing you down until you reboot. Memory Boost protects system resources and gets you running at full speed.




Software Information
System Requirements
Version:
2.6

Windows 8/7/XP/Vista
Pentium 100MHz or better
512 MB RAM
16 MB hard disk space

File Size:
1.77 MB
License:
Free to try, $19.95 to buy
Rating:
System Memory Boost Features:
Protects you from crashes. System Memory Boost warns you when system resources get low - allowing you to close some programs before they crash.
Automatically frees up memory, improving performance. You can leave System Memory Boost running and forget about it, assured that it is maximizing your computer's speed.
Shuts down "junkware," software that eats system resources without benefit.
Provides easy-to-read statistics on your computer's memory use. You can see at a glance how well your computer is performing.
Detective feature shows you how much of your memory each running program is using. That way, you can shut down larger programs if resources get low.
RELATED SYSTEM OPTIMIZER SOFTWARE DOWNLOADS