TrueMirror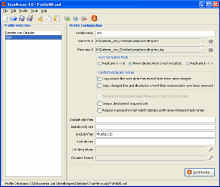 TrueMirror is a tool for easy and reliable symmetric file synchronization with transparent ZIP compression and AES encryption for Macintosh, Windows, Linux and UNIX.
TrueMirror keeps your files up to date between multiple computers via synchronization - regardless of the operating system or file systems used. E.g. you can synchronize files between your home desktop and your business notebook. This works even if the IT department of your company disabled any software installations because TrueMirror does not require a setup routine!
A suite of different synchronization modes and settings is configurable to meet all requirements. In particular, TrueMirror supports true symmetric file synchronization and thus is able to reproduce any changes on either side exactly to the other side - whether you have created, deleted or updated files or directories.
To protect your data, TrueMirror can also store the synchronized data in an AES encrypted ZIP folder. So you can safely store your valuable data on mobile memory media.
New in Version 3.0: With the batch mode you can synchronize data completely automatically without the need to start (and use) the user interface.

Download Trial 1.56 MB
Software Information
System Requirements
Version:
3.1.1

Unix / Linux, Platform independent, Mac OS X,
Windows 8/7/XP/Vista
Java Runtime Environment version 1.4.2 or higher.

File Size:
1.56 MB
License:
Free to try
Screenshot:
View Screenshot
Rating :
How does TrueMirror differ from other Synchronization Tools?
Batch mode: Now you can synchronize data completely automatically without the need to start (and use) the user interface.
Symmetric file synchronization: TrueMirror offers reliable, symmetric file synchronization (also known as bidirectional file synchronization or file mirroring) and additional synchronization modes.
Transparent ZIP compression: TrueMirror features transparent storing of files into compressed ZIP archives during file synchronization. So you can synchronize a lot more data on mobile memory media (e.g. USB stick or SD card) than their physical capacity allows!
AES encryption: Simply use the file suffixes ".tzp" or ".zip.rae" to save your data automatically in a ZIP file which will be entirely encrypted according to the Advanced Encryption Standard (AES) with up to 256 bit key length.
Revisioning: You can configure TrueMirror to create a backup of any file or directory before it gets overwritten or deleted during synchronization.
Synchronization editor: TrueMirror provides an editor for the operations to execute for file synchronization (COPY_A2B, RM_B, COPY_B2A, RM_A, ...) in order to allow immediate resolution of synchronization conflicts.
Platform independent: TrueMirror synchronizes data across different file and operating systems - Windows, Linux, UNIX, Macintosh.
Online updates: TrueMirror does not require an installation routine and is always kept up to date with Java Web Start.
Simple & fast: TrueMirror is simple to use and very fast thanks to a very powerful synchronization engine and a (multithreaded) user interface.
Multilingual: TrueMirror and its manual are internationalised. The user's language is automatically recognised. At current, English and German is implemented
RELATED SOFTWARE DOWNLOADS FOR TRUEMIRROR