Advanced PBX Data Logger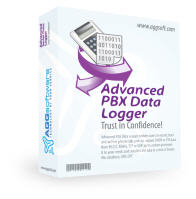 You may be an experienced hardware or network engineer, or an application designer and looking for a handy utility for extending your office, hotel or enterprise application. Whatever the case may be, look no further than our Advanced PBX Data Logger, for it will meet all of your technical needs.
Advanced PBX Data Logger enables users to record, track and archive phone calls and can capture SMDR or CIR data from RS232, RS845, TCP ports and write real-time data to disk, Excel, database (MSSQL, MySQL, ODBC) or to other targets. The program can be integrated to your call accounting system and work together with your hotel or office application.
If you have a few PBX or PABX working at the same time, don't worry, Advanced PBX Data Logger can handle many ports and PBX at the same time and record the data simultaneously! Advanced PBX Data Logger can work as a Windows service, which means that users can log on and off the Windows, but the program will still be there collecting your information. Good functionality and power at a very affordable price!
Software Information
System Requirements
Version:
2.1.2 build 911

Windows 8/7/XP/Vista
Pentium II CPU
Internet Explorer 5.0 or later
one or more RS232 or TCP ports

File Size:
25.2 MB
License:
Free to try, $190.0 to buy
Screenshot:
View Screenshot
Rating :
Key features of Advanced PBX Data Logger:
Capability to log data from multiple PBX at the same time. Our data logger can collect data from multiple PBX simultaneously. Each PBX may have fully different settings;
Universal. Supports more than 50 PBX types and allows to create custom configuration;
Variable data receive. Captures CDR and SMDR data from PBX;
Extended logging features. Outputs received data without any changes to a log file. Supports date/time stamping and logs rotation;
Visualization. The program allows to display all received data in the program window. You can customize data view options;
Advanced data parser. Allows you to create a custom configurations for PBXs that are not defined by default.
Filtering. You may define simple rules or use powerful regular expressions;
MS Excel. Data export to ready-to-use MS Excel files;
Databases support. Exporting data to MSSQL, MySQL, ODBC-compatible database (MS SQL, Oracle, MS Access, dBase and others);
Real-time export capabilities. Advanced PBX Data Logger can run as DDE or OPC server and can public all received data;
Program message logging. Writing to a protocol file all program messages, so you may diagnose errors and warning;
Plug-ins. Many plug-in modules that extending program features;
Simple, menu-driven step by step set-up Programming is not required to configure the software to collect data;
Various OS. Works on all Windows versions 9x/Me/NT/2000/XP/Vista, including x86 and x64 platforms.
Windows service mode. Unlike most other serial logging applications, Advanced PBX Data Logger can run as a service so that it starts as soon as the operating system starts and doesn't require a user to log in and run it. It will continue to run even as users logon and logoff the workstation.
RELATED SOFTWARE DOWNLOADS FOR ADVANCED PBX DATA LOGGER