Advanced NMEA Data Logger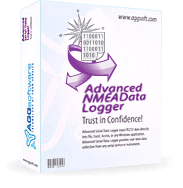 The National Marine Electronics Association (NMEA) has developed a specification that defines the interface between various pieces of marine electronic equipment. An NMEA standard defines an electrical interface and data protocol for communications between marine instrumentation.

Advanced NMEA Data Logger inputs NMEA data stream from GPS, navigation or any other NMEA compatible device directly into file, Excel, Access, any database or another Windows application. Advanced NMEA Data Logger provides real-time data collection from any device or instrument.
Advanced NMEA Data Logger captures serial or network data, custom parses it to your needs, then extract bits of data from data packets and transfers the data to any Windows or DOS application - either by sending keystrokes to the application's window, by passing the data through DDE (Dynamic Data Exchange) conversations, ODBC, OLE.
What problems can be solved with Advanced NMEA Data Logger?
A typical application for Advanced NMEA Data Logger is to log and aggregate data from one or more NMEA devices to disk or a software replacement for a hardware data logger for your GPS or NMEA external device.
Getting started is easy. Advanced NMEA Data Logger is ready!
Software Information
System Requirements
Version:
2.9.8 build 1019

Windows7/2000/XP/Vista ( x86,x64 )
Pentium II CPU
one free serial port, nmea compatible device

File Size:
10.1 MB
License:
Free to try, $85.00 to buy
Screenshot:
View Screenshot
Rating :
Key features of Advanced NMEA Data Logger:
Advanced NMEA Data Logger is based on an engine of our favorite product Advanced Serial Data Logger and therefore inherits all base features of this software and can work with all plugins for Advanced Serial Data Logger, but apart from Advanced Serial Data Logger that works with serial ports (RS232 or RS485) only Advanced NMEA Data Logger works with RS232, TCP/IP or UDP ports and sockets.
Capability to log multiple ports at same time. Our data logger has the capability to log multiple ports simultaneously so that multiple external serial devices can be logged. Each port may have fully different settings;
Supports all talker types (GPS, Heading, Velocity sensors etc);
Captures all standard NMEA-0183 sentences and some proprietary sentences for Garmin, SiRFand StarLink devices;
Outputs received data without any changes to a log file. Supports date/time stamping Supports custom baudrates;
Supports aggregation of multiple sentences to one data record;
Allow you to parse, filter and format your data. You may define simple rules or use powerful regular exressions;
Data export to ready-to-use MS Excel files.;
Data export to any ODBC-compatible database (MS SQL, Oracle, MS Access, dBase and others);
Advanced NMEA Data Logger can run as DDE or OPC server and can public all received data;
Program message logging - writing to a file all program messages, so you may diagnose errors and warning;
Many plugin modules that extending program features;
Simple, menu-driven step by step set-up;
Works on all Windows versions 7/NT/2000/XP/Vista, including x86 and x64 platforms.
Unlike most other serial logging applications, Advanced NMEA Data Logger can run as a service so that it starts as soon as the operating system starts and doesn't require a user to log in and run it. It will continue to run even as users logon and logoff the workstation.
It is extremely easy to use! The configuration process is fully menu driven and has complete, context sensitive, on-line help. You can easily customize all input to your exact specifications. Once you see how easy it is to use Advanced NMEA Data Logger, you will never again take data readings by hand!
RELATED SOFTWARE DOWNLOADS FOR ADVANCED NMEA DATA LOGGER