Wi-Fi WEP Key Generator Utlity Pro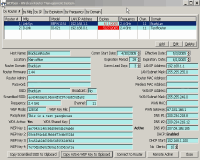 There are millions of 802.11b Wi-Fi wireless access points and other devices installed in homes and small businesses around the world. Until now, there really hasn't been an easy way to manage the security of these devices.
The Wi-Fi WEP Key Generator Utility is used to quickly and easily create more secure WEP keys than can be created by using the built in passphrase generators contained in Wi-Fi networking equipment.
In a nutshell, a WEP key is a 'token' of hexadecimal characters (from 40-bit to 256-bit, depending upon the equipment manufacturer, that provides an encryption key for data on your Wi-Fi network.

Up until recently, the technology required to crack WEP keys has not been readily available. Now there are several tools available that allow hackers to crack WEP keys with far less effort.
if you have a wireless network, you need to change your WEP (Wired Equivalency Privacy) keys often. This tool makes it easy and convenient to keep your Wi-Fi wireless network more secure. Wi-Fi WEP Key Generator runs under Windows 98/98se/NT/2000/XP.
The Wi-Fi WEP Key Generator Utility also allows you to create WEP keys that work between manufacturers. Now you can use D-Link with Linksys with Netgear with Belkin with SMC, etc. and maintain your wireless networking security without worrying about equipment WEP key incompatibilities.




Software Information
System Requirements
Version:
2.2

Windows 98/98se/NT/2000/XP
256 MB RAM
Pentium II CPU

License:
Free to try, $34.95 to buy
Download Size:
2.18 MB
Screenshot :
View Screenshot
Rating :
Wi-Fi WEP Key Generator Utlity Key Benefits:
There are literally millions of older Wi-Fi equipment installations that cannot benefit from the newer WPA wireless protection encryption algorithms. Primarily because the equipment manufacturers have abandoned the equipment and no longer provide updated drivers / firmware upgrades.
Some manufacturers build what are known as 'passphrase generators' into their equipment. This basically allows the user to enter an easily remembered phrase and the equipment generates the WEP key based upon an algorithm built into the equipment... and there lies the rub.
Every manufacturer seems to do it a bit differently, if they do it at all. There doesn't seem to be any kind of standard toward implementing WEP. This creates lots of problems when you are trying to connect devices from various manufacturers because the results from their built in passphrase generators are different across devices.
With the WEP Key Generator Utility, you can generate keys based on a passphrase that is compatible with all wireless systems because all wireless network systems must support hexadecimal based keys.
Instead of using the passphrase generator that is built into the router, or your wireless card on your laptop or PDA, you use the WEP Key Generator utility to generate the WEP keys and manually enter them into your wireless router settings and wireless network adapters.
As you can imagine, this greatly simplifies the implementation of equipment from different manufacturers. Now you can easily use Orinoco, Netgear, and D-Link wireless cards with a Linksys, SMC or Belkin router / switch and not have to worry that one manufacturer uses ASCII based WEP keys and the other doesn't support it. You are not limited in your choice of equipment by brand.
Not only do we support creating a key with a passphrase, we also have created a way to generate WEP keys based upon any particular file on your computer.
That's right. You can now generate a key based upon your resume, or even an image of your favorite pet. Simply select the file and click on the "Calculate WEP Key File" button. Keys are created automatically. This keeps someone from typing in passphrases trying to guess your WEP keys.
The Wi-Fi WEP Key Generator allows you to more effectively manage the security of your Wi-Fi network and extend the life of your existing equipment. It is important that you change the WEP keys used in your Wi-Fi devices often.
RELATED SOFTWARE DOWNLOADS FOR WI-FI WEP KEY GENERATOR UTLITY PRO