Slalom SnowBoarding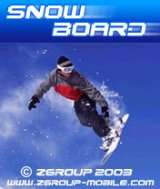 Get ready for an awesome ride, with no lines or frostbite. It's just you, your snowboard and the slope. This fast-paced game requires lightning reflexes and superb timing to master, and keeps bringing kids and adults back time and time again.

You have to race against time. You have to run and zigzag through the gates for the fastest times in this giant slalom Snowboard run. For each gate you miss, you will loose some of your time. If you fail to finish the race within the time limited displayed at the beginning of it, you will loose the game. If you success then you will have to race another more difficult one. In advanced races you will have to find quickly safe paths as some of them are deadly closed.

Your goal is to finish the game with the highest score! For each gate you pass you will gain 100 points. At the end of the level you will gain 100 points for each second saved.

Available NOW for: Nokia Series 30, Nokia Series 40 and Nokia Series 60 phones. Available already in Arabic and English.



Buy Site: http://www.zgroup-mobile.com/reviews/SnowBoard/SnowBoard.html
---
More Screenshots

Key Features:
Sound effects make the game more enjoyable.
Five interesting levels to finish.
Very Fast game play.
Controls:
'4' or 'LEFT': move the player to the left.
'6' or 'RIGHT': move the player to the right.
'0': Pause/Resume game.