SkyHawk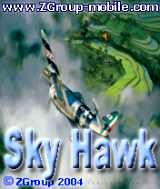 World War II 1942: the Japanese are enjoying naval and aerial superiority so far, they are now more confident of their final victory. It's up to you to reverse the situation!

But they don't know we have a secret weapon: our new fighter SKY HAWK and its skillful pilot. It is our last hope to keep the Japanese ships off our shores.

The game has six challenging levels with increasing difficulty. You have to fight fleets of enemies, destroy bombers, and sink their ships.





Buy Site: http://www.zgroup-mobile.com/reviews/SkyHawk/SkyHawk.html
---
Key Features:
Clever Opponents Opponents are clever when attack. They don't mind also act like Kamikaze when they feel they are going to die!
6 Well designed levels: The levels are well designed and contain different territories and missions. At the end of each level there's either a bigboss or a big attack.
Weird Attackers: Enemy fleet organize themselves in certain position and move in certain harmony which make them hard to knock down.
Sound & Vibrator effects make the game more enjoyable.
Controls:
'4' or 'LEFT': Move the fighter to the left.
'6' or 'RIGHT': Move the fighter to the right.
'5' or FIRE: Shoot.
'2' or 'UP': Move the fighter forward.
'8' or 'DOWN': Move the fighter backward.
'0': Pause/Resume game.
*: Enable/Disable auto-shot mode.