PolyMap DataBase Edition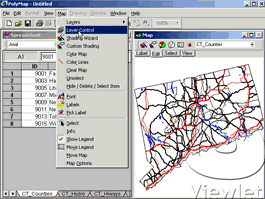 PolyMap is a desktop mapping and geographic presentation software package for Windows to create thematic and informative maps for presentations.
PolyMap makes it easy to integrate data from all over your organization and work with data geographically. PolyMap gives you the tools to graphically map information for your business. Because it works together with Windows Office Programs, PolyMap lets you easily incorporate maps into reports, presentations and spreadsheets.
PolyMap makes the process of composing maps easier by giving you a flexible and simple work environment. Use the buildt in spreadsheet to enter data or paste them from other Windows applications. PolyMap provides a rich set of features for displaying and printing maps, and in particular for making the appearance of the map dynamically dependent on data. Use the Map Presentation Wizard for a step-by-step process to customize your map and the map's legend. An easy-to-use labeling feature included in PolyMap offers you to use any spreadsheet column data for labeling.




Software Information
System Requirements
Version:
3.10

Windows 7, 2003, Vista and XP
Pentium or similar processor
64MB RAM

File Size:
7.40 MB
License:
Free to try, $89.95 to buy
Screenshot:
View Screenshot
Rating:
PolyMap Features:
Grouping and Charting Data
Consolidate data let you combine information from the map spreadsheet into one new worksheet. Automatically it creates a chart with this consolidated data. You can create and modify charts to present data effectively. In addition you can customize charts with the chart wizard to enhance their appearance.
Consolidate Data
Charts provide a graphical representation of data. Values or data points are displayed in formats such as: bars, lines, markers, filled areas, bubbles, or pie slices. These data points are grouped into series that are identified with unique colors or patterns. In many chart types, one data point from each series is grouped together by category along an axis.
New map export format PDF
PolyMap 2.5 allows you to create Portable Document Format (PDF) files directly from the map window.
After the files are converted to Adobe PDF, you can view them using Adobe Acrobat or Acrobat Reader.
Working with Maps and Data
Use a set of geographic layers in different formats – state and county boundaries, five-digit ZIP codes, US and state highways, cities, rivers, lakes – to add details and to create your new thematic map. State and county boundaries, for instance, can be 'extruded' to 3D prisms, shaded in color, 'sprayed' with a dot-density distribution, embedded with individual pie and bar charts, or placed into a matrix for portfolio analysis.
Add custom points to the map
First time using this command PolyMap creates a new custom map point layer. If you choose Add Point from the map toolbar, PolyMap displays the Add Point dialog box, which inserts the new point in the map and adds a new line in the point spreadsheet.
Clipboard format Enhanced Metafile included
You can select the Enhanced Metafile format to copy the map window to the windows clipboard. You can paste the map to any application that supports the Enhanced Metafile format.
Map print preview feature
The Print preview lets you control your map print output. Full page, Page Width, Header, Footer and zoom factor set by the user are supported.
Map export to Enhanced Metafile
You can export your maps with all features to an Enhanced Metafile. Metafiles are the standard method of exchanging vector graphics (i.e. drawings composed of objects) among Windows programs. Windows can draw a metafile with a single command, so Windows programs can easily display a metafile.
Customize maps and layers
You can hide or delete layers from a mapset. Selected objects in the map window or selected rows in the spreadsheet can be deleted using the Edit Delete command.
Automatic selection between map and spreadsheet
To select a number of objects from a map click on the desired objects with the Select tool. Do this operation as often as you want. Each time you do it, the newly chosen object or objects are added to the current selection set. Click again on a selected object to remove it from the selection.
To highlight the selected objects in the spreadsheet click on the "Show selection in spreadsheet tool". All rows of the selected objects are now shown as selections in the spreadsheet.
In the same way you can manually select entry rows in the spreadsheet and let PolyMap show the objects in the map window. To highlight the selected objects in the map click on the "Show selection in map tool" at the spreadsheet toolbar.
Print out your work
PolyMap prints the maps and spreadsheets on any Windows-compatible printer.