Pocket Darts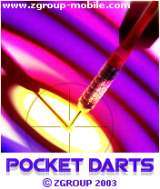 Come on and play this amazing pub game on your mobile. Although this game is very easy, classic and evident. It still doesn't loose its charm nor does it loose its addictiveness.

Playing the game is intuitive. You have first to choose a character. Different characters have different aiming experience and different difficulties level. You can start initially with the easiest level, then when you master it you can proceed to higher levels. After you choose your character you will be presented with the board to try your shots on it. Hitting on the center will bring you more points. The score at the end of the play will reflect your accuracy. So try to bring the highest score.

The game is available for the following mobile phones: Siemens SL4xi, Siemens M50, Siemens MT50, Siemens C55, Siemens S55, Nokia 6310i, Nokia 3410, Nokia 6610, Nokia 7210, Nokia 7250, Nokia 6100, Nokia 5100, Nokia 6800, Nokia 7650, Nokia 3650, Nokia N-Cage and Motorola T720. There's also a 100% MIDP compatible version ready to be ported to other devices.



Buy Site: http://www.zgroup-mobile.com/reviews/PocketDarts/PocketDarts.html
---
More Screenshots

Key Features:
Clever Opponents Opponents are clever when attack. They don't mind also act like Kamikaze when they feel they are going to die!
10 Big bosses. At the end of each level you have a bigboss (or several) to defeat.
Weird Attackers: Enemy fleet organize themselves in certain position and move in certain harmony which make them hard to knock down.
Sound & Vibrator effects make the game more enjoyable.
Controls:
'4' or 'LEFT': Choose your character.
'6' or 'RIGHT': Choose your character.
'5' or FIRE: Shoot/Lock the direction.
'0': Pause/Resume game.