Paragon Partition Manager Professional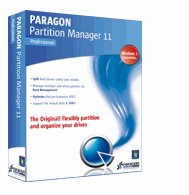 Universal tool for Resize partition & Convert partition! Paragon Partition Manager Professional is an integrated set of powerful tools that is specially designed to tackle most of the problems the user might face while using PC. A highly intelligent program engine together with built-in advanced recovery facilities make it possible to securely carry out partitioning operations of any complexity, optimize performance of NTFS and FAT file systems, migrate the system to another hard disk, etc. without fear to lose precious data.
Partition Manager 11 Professional includes the latest technologies in managing stand-alone Windows environments. Drive partitioning and file system optimization, disaster recovery and system migration, system virtualization and virtual disk management will guarantee optimized disk partitioning and maximum utilization of storages, both physical and virtual
Partition Manager affords everything you may need for managing partitions; it's suitable for both everyday and rare needs, for either inexperienced user or advanced professional.
Software Information
System Requirements
Version:
11.0

Windows 7/2000/2003/XP/Vista
Pentium processor
512 MB RAM

File Size:
35.90 MB
License:
Free to try, $79.95 to buy
Screenshot:
View Screenshot
Rating:
Several major components are included with this outstanding product:
Partition Manager
Bootmanager
Recovery CD with DOS and Linux versions of Partition Manager
DOS drivers on Recovery CD to access NTFS and Ext2fs Partitions
Linux driver on Recovery CD to access NTFS Partitions
Built-in ISO-Burner (use it to create your own recovery CD )
File System Optimization Facilities:
27 defragmentation strategies available to defragment FAT and NTFS file systems.
MFT defragmentation and shrinking to improve performance of NTFS.
Safe Defragmentation Mode to guarantee data loss free defragmentation of any version of NTFS and FAT.
Low free space defragmentation (less than 1% of the free space required) to successfully defragment almost full disks.
Partition/Hard Disk Management Facilities:
Basic functions for initializing, partitioning and formatting hard disks (create, format, delete). Instead of the standard Windows disk tools, the program supports all popular file systems.
Express Create Partition Wizard to create a new partition in the most appropriate place of a hard disk, format it to NTFS and then make it available in the system by assigning a drive letter.
Merge Partitions Wizard to consolidate the disk space, which originally belongs to two adjacent partitions (NTFS, FAT16/FAT32), into a single, larger partition.
Redistribute Free Space Wizard to increase free space on one partition by up-taking the on-disk unallocated space and the unused space of other partitions.
Express Resize Partitions Wizard to increase free space on one partition by up-taking the unused space of an adjacent partition of a hard disk (including partitions of Apple Boot Camp).
NTFS hot resize upward to enlarge an NTFS partition (system, locked) without rebooting Windows and interrupting its work.
Convert a file system (FAT16/32, NTFS, Ext2/Ext3) without reformatting.
Mount a partition (assign a drive letter) of any file system type to make it available for your operating system.
Modify file system parameters (make active/inactive, hide/unhide, change serial number, partition ID, volume label, etc.).
Install New OS Wizard to make a system ready to install a new operating system.
Undelete Partitions Wizard to recover an accidentally deleted partition.
Restore Facilities:
Restore an entire disk, separate partitions or only files you need from the previously created backup image.
Restore with Shrink to restore a backup image to a free block of smaller size taking into account only the amount of actual data of the image.
Adaptive Restore to successfully migrate a Win2K+ physical system to a different hardware platform (P2P) by allowing automatic injection of all required drivers and the other actions crucial for a migration of this kind.
Backup Facilities - Support of major techniques to store backup images:
Backup to local mounted/unmounted (without drive letter assigned) partitions;
Backup to external media (CD/DVD) to guarantee a high level of data protection as long as the backup media is kept secure;
Backup to an external mounted storage to provide for a higher level of data protection and system independence;
Backup to a network drive to stand a better chance of success in case of a hard disk failure.
Copy Facilities:
Partition/hard disk copy to successfully transfer all on-disk information including standard bootstrap code and other system service structures, thus maintaining the operating system's working capability.
More Screenshots - Click each image to enlarge!