Absolute StartUp manager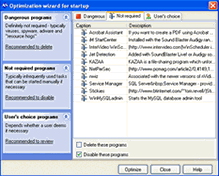 Absolute StartUp manager helps you control and manage program that will start automatically when Windows boots. You can enable/disable selected items and also research additional details for an item with the help of online resources, as well as an integrated database of potentially dangerous programs.
Absolute StartUp also offers advanced startup scheduling, which enables you to set certain conditions for a program to be started.
Additional features include startup monitoring and alert when new items are added, anti-virus integration and more. The program also includes a handy startup optimization wizard that investigates your configuration and suggests items to disable.




Software Information
System Requirements
Version:
5.0

Windows 98/ME/2000/XP
Pentium processor
32MB RAM

File Size:
2.35 MB
License:
Free to try, $29.95 to buy
Screenshot:
View Screenshot
Rating:
Key Features of Absolute StartUp manager :
Startup programs management:

Display all startup items from registry, startup folders, win.ini.
Allow to add, edit, disable and delete programs.
Stop/start with/without parameters any startup items.
Find source of record, find program's folder.
All deleted items added to Recycle Bin to restore them quickly.
Delete duplicates from startup sections.
For pro: For Windows 2000/XP administrators Absolute StartUp provides read and write access to other users startup configurations.
Get properties of program from file information and from Internet search.



Batch startup management:

Wizard to optimize startup configuration included.
Check for dangerous programs: viruses, spyware, other harmful programs
(program databases update from Internet).
Backup all startup items into *.reg and *.bat files
(to restore them you have to start commnand file without any startup manager).
Restore all items from backup from list or custom directory.
Export startup list into HTML file.
Clear startup configuration.



Advanced startup options provided by Absolute StartUp:

Absolute StartUp provides schedule feature for startup programs.
Any scheduled application gain advanced options: start delay, control key, hide start mode.
With schedule feature you can start application on certain days, at certain time, after defined application, with established Internet connection.



Startup control features:

Tracking changes in startup configuration and displaying information about them (list of ignored applications is applied).
Start antiviruses or other applications for new items in startup.
Detecting and removing of harmful applications from startup.
Freezing startup configuration state.
(to prevent any startup changes by other programs)
Preventing computer reboot if changes are detected
(to review and remove viruses from startup).



System management:

For pro: Managing system services: adding and restoring startup services, changing its settings, deleting and start/stop them.
For pro: Managing system libraries, loaded during Windows boot process.
Possibility to restore all changes in these section (if problems arise).



Other helpful features:

Possibility to edit autoexec.bat and config.sys for Windows 95/98.
Possibility to edit autoexec.nt, config.nt and winstart.bat for Windows 2000/XP.
Supported interface languages: English, Chinese, Dutch, French, German, Greek, Hungarian, Norwegian, Portuguese, Russian, Spanish.
Clipboad support is suitable for exporting single item data from Absolute StartUp manager to other documents.
For newbies: huge help system, online help, forum, contact support team, feedback form.
More Screenshots - Click each image to enlarge!