O&O BlueCon XXL - Administrator's Suite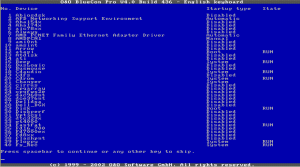 O&O BlueCon XXL Administrator's Suite now offers users even more ways to rescue data and systems under Windows XP, Windows 2000 and Windows NT. The integration of the new UNERASE functionality allows users to restore files without having to start the operating system. The new SAFEERASE functionality has been integrated and expanded. Files, folders, partitions and entire hard disks can now be deleted completely, securely and permanently. The easy-to-create O&O BlueCon Boot CD offers an extremely effective way of accessing all systems - even those that won't boot anymore. O&O BlueCon allows you to access the system even without a password. It is often the last chance to rescue a Windows system and its data, and therefore a must for any administrator..


Software Information
System Requirements
Version:
5.0.414

Windows NT4.0/2000/XP/2003
Pentium or similar processor
64MB RAM

License:
Free to try, $349.00 to buy
Download:
Click to Download
Rating:
Key Features of O&O BlueCon XXL :
Repair crashed XP/2000/NT installations
Repair your configuration, even when the system won't start at all.
Save files from defective XP/2000/NT systems
Copy files from defective hard disks. You can use read access only - no chance of data loss.
Restore deleted data
Files that have been accidentally deleted and not overwritten can be simply, quickly and easily restored.
Deactivate bad drivers and system services
Simply deactivate the relevant files with the built-in service and device configuration, or replace them with new versions.
Manipulate the registry
A line-oriented registry editor allows the manipulation of the registry and the correction of entries.
Permanently and securely delete confidential data
Delete data with five different, scientifically recognized methods so that unauthorized persons can't restore them. A must for leased computers!
Edit ASCII files
The EDLIN-Tool allows you to edit ASCII files. This is useful if you have, for example, changed your system from IDE to SCSI hard disks and must now adapt the BOOT.INI so that it is compatible.
Create rescue floppies/CD-roms with the O&O BootWizard
The built-in BootWizard leads you step-by-step through the creation of rescue disks or the selection of files for a boot CD-rom.
Access to any system without administrator password
O&O BlueCon offers a tool to delete the local administrator password so that you have access to the system once more.
Analysis of drives and partitions
Examine drives and create status reports for a detailed insight into possible drive problems.
Fault-tolerant support of hard disks
Fault-tolerant disk support can be started as a service. This allows you access to stripe sets and volume sets.
OEM driver support
O&O BlueCon additionally supports OEM drivers.
CONVERT and FORMAT
The possibility of coverting FAT drives to NTFS drives is provided as well as the complete formatting of partitions, in FAT and NTFS file systems.