Max PC Secure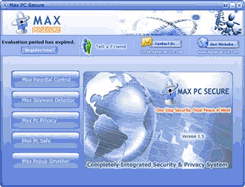 Over the past few years, cyber attacks have annoyed everyone. New Government policies have been enacted to control Data Security, Privacy, Spam, Adwares, Viruses and other vulnerabilities. This product addresses issues starting from Integrity of Data to intrusion of Privacy , Internet Bandwidth misuse, catastrophic disruption to infrastructure, loss of revenue and more.
MAX PC Secure provides the user a total secure and private Internet experience. Max PC Secure is an integrated solution for adware / spyware removal, parental control, privacy & data protection to improve your computer performance.






Software Information
System Requirements
Version:
New

Windows 98/2000/XP
IE 6.0
128 MB RAM

File Size:
8.25 MB
License:
Free to try, $29.99 to buy
Screenshot:
View Screenshot
Rating:
Why I need Max PC Secure?
Surf the Internet without being tracked.
Safe guard your personal information from spywares.
Clear all your on & offline activities after you use your PC.
Encrypt confidential files and folders for complete safety.
Prevent junk & annoying banners while you are browsing.
OneStop Integrated Security & Privacy Solution.
Stop Spywares from monitoring your activities.
Block all popups and speed your browsing.
Protect your identity from hackers & marketers.
Max PC Secure provides:
Parental Control: Controls what your kids and employees do online.
Anony Surf : Keeps your online activites private.
Safety from Spywares: Scans and removes all the spywares / adwares /trojans etc.
Privacy Features: Provides total Internet and Windows privacy.
Data Security Features: provides Data Security, encrypts your data with password protection.
Popup and Ad killer: Kills Pop Ups and Ads.
Key Features of Max PC Secure :
Allows administrator of the PC to control which web sites should be visited by different users, which keywords should be allowed in the web pages for which users and which applications they should use.
After spam, spyware is the biggest problem Internet users are facing today. Spywares are installed on your PC, invading your privacy, annoying you with pop-ups and clogging the Internet bandwidth.
Spyware Detector cleans your PC of all Spywares , Adwares , Trojans, Dialers , Cookies. It protects your PC by installing database hosts files, deletes and blocks cookies, suspicious activex controls, takes back up of important registry information.
All the data in your PC can be accessed by others, either on purpose or unknowingly. With this utility, you can encrypt and decrypt your important files and folders with a password. Thus only the password holder can have access to the files.
You can delete all windows temporary files, list of websites visited, history files and lots more.
A great popup killer allows you to browse Internet in total privacy and peace with no unwanted pop-ups and ads.
Live Update from the product server updates the database of bad websites, keywords and spywares, which are being added by the site administrator regularly.
Remote reporting of usage, and detailed reports of activities through e-mail for each User account. So remotely sitting anywhere in the world, you can view the logs and see what websites were browsed, which keywords, websites, games and other applications were opened on your PC.
RELATED SOFTWARE DOWNLOADS