LifeGuard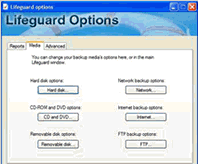 Lifeguard saves and protects data, and can backup your system to a secure, protected account.

Data Protection and Backup: Crashes happen. Viruses strike. You don't think about backup every day, but when you need it you really need it. Lifeguard makes it easy for you to protect your work. Don't get caught without it.








Software Information
System Requirements
Version:
3.0

Windows 8/7/XP/Vista
Pentium 266MHz or better
512 MB RAM
16 MB hard disk space
CD-RW drive recommended

File Size:
3.26 MB
License:
Free to try, $49.95 to buy
Screenshot:
View Screenshot
Rating:
LifeGuard Features:
Disaster recovery feature makes it easy to get your information back after even the worst crashes.
Lifeguard makes it easy to transfer all your information from one computer to another.
Built-in scheduler lets backups run whenever you want, without your having to be there.
Encryption and compression protect your data, and save your time and money.
Proprietary technology maximizes backup speed, while document-centric design lets you choose what data you want without having to know where it is stored.
Direct access to your e-mail program allows Lifeguard to back up only the e-mails and attachments you want to save, as well as hidden information like your address book.
Lifeguard comes with its own network server. You can back up all the computers in your home or office with a single click.
LifeGuard Key Benefits:
Lifeguard is document-centric. That means you don't have to remember where you keep your work, what it's named, or in what type of files it's contained. You just click what you want: e-mails, address book contacts, music, pictures, and more.
Lifeguard's proprietary technology combines speed and power. With Lifeguard, you can back up your work, compress it (to save time and money) and encrypt it (to protect it from theft) in the same amount of time it would normally take just to copy your files.

Lifeguard supports a broad array of backup media. Using Lifeguard, you can back up your stuff to:

CDs
DVDs
Jazz and Zip disks
USB pen drives
An FTP account
A Lifeguard Internet account
and more...

Lifeguard comes with an extensive and powerful scheduler, so your computer can back up your stuff even when you're not around. Back up once a month, or every Tuesday at midnight, or every Wednesday and Friday...
Lifeguard's interface grows to fit your needs. Each window is configurable--hide the features you don't use, only see the ones you need. Or you can switch to Advanced Mode, which gives you access to everything.
Sometimes you need a complex backup: "only e-mails from my boss in the last two months, plus all documents from the Top Secret Project." Lifeguard lets you say this without a big window with buttons, dials and checks. With Lifeguard, you can create complex filters in plain English sentences.