HyperSpeed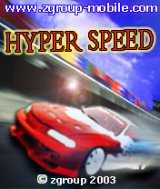 HyperSpeed is a fast and furious racing game. Push the speed to its limit and see if you can beat your opponents!
In the game you have to race against three different opponents. The game includes 16 different tracks to finish in three different environments.

There are three cars to choose between in the game. Each car is distinguished with three parameters: it's max speed, it's slow down and it's add-ons. The slow-down parameter will define how much the car will slow down when hitting another car or an obstacle. Better cars are the one which have high max-speeds and low slow-down. Some cars are equipped with add-ons like Missiles and defensive-shelter.

During the game you should avoid colliding with side of the roads. You should also try to get the maximum speed so that you stay ahead of your opponents. Several items can appear on the road, try to pick up these items. These items might be bonus to be added to your score or some missiles to be fired on your opponents to freeze them down. You can also pick up a shelter against missiles from your opponents. Be careful also and avoid also water spots, or else your car will slip and you will loose control of it.

The game is available for the following mobile phones: Siemens SL4xi, Siemens M50, Siemens MT50, Siemens C55, Siemens S55, Nokia 6310i, Nokia 3410, Nokia 6610, Nokia 7210, Nokia 7250, Nokia 6100, Nokia 5100, Nokia 6800, Nokia 7650, Nokia 3650, Nokia N-Cage, SonyEricsson P800 and Motorola T720. There's also a 100% MIDP compatible version ready to be ported to other devices.



Buy Site: http://www.zgroup-mobile.com/reviews/HyperSpeed/HyperSpeed.html
---
Key Features:
Clever Opponents will add a lot of competitively to the game. The game has a good AI, changing difficulty dynamically according to your level.
16 Levels in three different environments. The levels increase in difficulty and the user has to unlock them one by one.
3 Opponents to run against.
Sound & Vibrator effects make the game more enjoyable.
Key Features:
4,6 or right/left: Move the paddle right or left.
2,8 or Up/Left: Move the paddle up and down.
0: Pause game.
The game will support pointer devices when available.
Screenshots!