XUpload Pro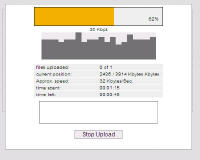 XUpload is an advanced upload progress bar indicator for web based file uploads written on Perl. XUpload lets you to accept file uploads on your website and shows upload progress bar which is showing upload progress in real-time.
Upload progress bar could be shown in popup window or right on the upload page. It also shows upload progress in percents, upload speed (kb/s), elapsed and remaining time, size of uploading files (useful when uploading multiple files). You can stop file upload process by just pressing stop button. If file transfer will fail during upload process - error message will be shown.

XUpload will work on any hosting, virtual/shared or dedicated and on all platforms driven by Apache or IIS Web Servers - Linux or Windows.
There will be no problem with integration of XUpload with your login system because XUpload will "pass" all parameters through itself. In other words - it's absolutely "transparent" to any environment and could be integrated with any framework: PHP, JSP, etc. The only one thing needed - web server and Perl installed. No Flash or Java needed - pure Perl and DHTML is used.
We have unique controlled AJAX feature. You can turn AJAX "on" or "off" by changing only one parameter in config file.





Software Information
System Requirements
Version:
2.5

Windows 8/7/XP/Vista
Any Perl version

License:
Free to try, $37.00 to buy
File Size:
42.0 MB
Screenshot :
View Screenshot
Rating :
Key Features of XUpload Pro:
Real time progress bar
Upload info can be updated up to 50 times per second with actual data
Upload speed meter
You track both average and momental upload speeds
Total/Transfered bytes counter
You always know total upload size and how much already uploaded
Transfer failure detection
We detect upload interruption so progress bar won't be working forever in that case.
Compatible with well known browsers (IE, Opera, Mozilla, Safari)
We did a hard work to make our script compatible with most used browsers
Integration with PHP/JSP code
XUpload can send POST request with upload details & all form fields to your script
Large files upload (No limitation!)
Max upload filesize is limited only by your filesystem and Apache/IIS webserver
Works on a standard server or a secure server (https)
You can use it on your secure sites
Can be integrated with absolutely any framework
You can insert upload from HTML code anywhere you want
Popup upload progress bar
Upload progress information can be shown in pop-up window so you will be able to see upload results even after upload complete
Inline upload progress bar
Upload progress can be shown directly on your page over other elements or inside upload form box
Upload speed graph
You visually track speed statistics and see upload speed peaks and lows
Email notifications (customizable)
You can send custom upload notification emails with detailed info to uploader & admin
Multiple files upload
Able to upload UNLIMITED number of files at once
Stop file transfer by clicking Stop button
You're able to stop transfer at any moment
Adjustable upload file size limit
You're able to specify exact upload size limit
Automatically stop file transfer when upload limit exceeded
XUpload interrupting upload BEFORE file completely transferred to the server. That will save your traffic and time.
2 Ways of adding multiple files (DHTML)
We provide 2 scripts for adding upload slots to your page dynamically
3 Upload Bar Templates and Styles included
We provide 3 custom upload progress window templates
Compatible with mod_security Apache module post caching
Caching problems with mod_security or mod_gzip are solved with our script
Multilanguage support
Every error message is well-customizable in one config file
Automatically detect path to scripts
You don't have to specify same script URL in many places, only one is enough
Upload form password protection
You can protect your uploads with password specified in config. Password sending to server under MD5 encryption
Only one config file to edit
You don't have to update you upload form code everytime you change upload options. We automatically receive max uploadsize, number of files, allowed extensions, password/email requirements from server.
Working on Windows on Apache & IIS web servers
Now working on IIS too!
Custom upload modes
You can set up several upload modes in config(size and number limits) and specify only mode Id in upload form to apply that limit for this custom upload form
Controlled AJAX
AJAX mode allow not to reload progress bar window. You can set AJAX mode on or off in config.
FREE Installation support service
We provide FREE XUpload installation for Pro version owners
RELATED SOFTWARE DOWNLOADS FOR XUPLOAD PRO