Vocaboly - vocabulary builder software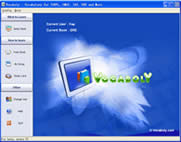 Powerful learning software of English vocabulary, including test, game and etc.
Vocaboly is a innovative vocabulary builder software for SAT, TOEFL, GRE, GMAT and general vocabulary. Vocaboly contains five books: SAT, TOEFL, GRE, GMAT and VOA Special English, with more than 12,000 words, each word provided with meaning, phonetic symbol and pronunciation.

It is a learning software for English vocabulary through many learning methods, including test and game. Memorizing will be much easier and more efficient, above all it's fun! If you have to prepare for an English examinations such as TOEFL, GMAT, GRE or SAT, Vocaboly is just right for you. If you just want to improve your vocabulary, Vocaboly will also be very useful. Build your vocabulary in a fun unique way with our award-winning vocabulary building software!




Software Information
System Requirements
Version:
2.1

Windows 98, 2K, XP and Vista
Pentium II CPU
64 MB RAM

File Size:
3.06 MB
License:
Free to try, $38.87 to buy
Screenshot:
View Screenshot
Rating :

Each book contains eight flash cards for focusing on specified words. Each word can be assigned to a difficulty level from 0 to 5, which makes the vocabulary learning very efficient!

You can also create your own books and enjoy all the following innovative features :
Word Ticker -- Display words automatically.
Recall -- Recall the meaning of the words.
Spelling -- Spell words by meaning.
Listening Test -- Spell words according to pronunciation.
Multi-Choice Test -- Select correct meaning or word from four choices
Memory Game -- Match the word and meaning.
Star War Game -- A shoot game.
Vocaboly - vocabulary builder software Features:
Big Vocabulary
Vocaboly contains five books: "VOA Special English", "TOEFL", "GMAT", "SAT" and "GRE", with more than 12,000 words, each word contains meaning, phonetic symbol and pronounciation(decent American accent). You can select a book according to your purpose and English level.
Word Cards
Every book contains eight flash cards, after you put some words into these cards, you can select a card to study, like that you can easily focus on the words you want to learn.
Word Difficulty Level
Each word can be assigned to a difficulty level from 0 to 5, the default difficulty level is 0. You can learn the words in whatever difficulty level you choose. Combined with word cards, you can easily pick up the words that you are unfamiliar with.
Multi-User support
Each user has his own study record and software setting which is saved automatically when you quit the program.
Multi-Level Study Methods
Study
Word Ticker
Display words automatically.View Screenshot
Recall
Recall the meaning of the words.
Spelling
Spell words by meaning.
Tes
Listening
Spell words according to pronunciation.
Multi-Choice
Select correct meaning or word from four choices, the test is generated dynamically, so each test is unique.View Screenshot
Game
Memory
Match the word and meaning.View Screenshot
Star War
A shoot game.View Screenshot
RELATED SOFTWARE DOWNLOADS FOR VOCABOLY - VOCABULARY BUILDER SOFTWARE