WordBanker English-Spanish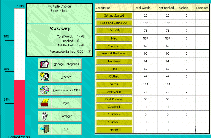 WordBanker is a unique and fun method of helping you to learn a foreign language. Rather than bog you down with complicated grammar it deals only with building a vocabulary. Do you have trouble memorising new words or phrases ? WordBanker's "Visual Clue" method of testing means you learn without even realising it. There are many extra functions like create you own custom MP3's, record and compare your pronunciation with a native speaker, add and record your own custom words, a dictionary containing all your test words and a practice mode.. Can be used by English people learning Spanish or Spanish people learning English.




Software Information
System Requirements
Version:
4.1.4

Windows 9x/Me/NT/2000/XP/Vista
Pentium II
SoundCard (For full funtionality)
64MB RAM

File Size:
10.40 MB
License:
Free to try, $24.95 to buy
Screenshot:
View Screenshot
Rating:
WordBanker Main Features :
Approximately 1500 words or phrases in standard categories.
All words can be edited.
Option to cover the multiple choices to remove the "visual clue".
Audio samples of all standard categories.
A fully customisable "Practice Mode".
Join your unbanked words to create single practice MP3's
Record yourself and compare your pronuctiation with a native speaker
Print lists of your unbanked words
Create up to 3 categories of your own, easily adding, editing and recording your own words.
Send difficult words to a "Hotlist".
Single or multiple users with "User Management" .
A summary and "Banked Meter" to monitor progress.
3 different methods of testing.
Multiple Choice - Select the correct translation to the word shown from a grid of buttons.
A "Type the Answer" testing method to improve your written language skills.
Banking words enables you to test yourself only on the words you don't now.
A dictionary containing an up to date collection of all standard and custom words in your collection.
Can be adapted to test yourself on other subjects!