SyncWrangler for Mac

Advanced music & video synchronization for iTunes and iPod.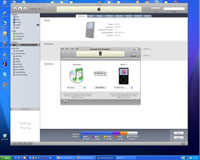 SyncWrangler for Mac is a tool that works seamlessly with iTunes and iPod to provide more advanced file synchronization options to iTunes. Unlike traditional file synchronization programs SyncWrangler has been optimized for digital music.

Regular file backup and synchronization applications use only file names and modification dates to determine which files are worth preserving and which will be permanently deleted during backup and synchronization. This approach is inherently risky but is the only way to handle your typical unstructured file.

Fortunately music files are highly structured and contain lots of information in the form of "tags." We can use the information in these tags to expand the number of comparison factors used to identify a song file from just two (file name and modification date) to a half dozen or more.

Having this information available, and knowing how to use it, virtually eliminates the possibility of costly errors when merging, backing up, and synchronizing music & video collections.
SyncWrangler treats music files as irreplaceable digital assets not just raw data.

SyncWrangler analyzes the song name, artist and album titles, the music encoding format, song length and many other variables in order to determine precisely which music files need to be merged, copied or moved.

The precision with which SyncWrangler compares music files protects your investment and enables new music collection management features. Merge large music collections with confidenced.

SyncWrangler makes it safe and easy to merge, copy, backup or synchronize even the largest music & video collections. You can merge in one direction or two, knowing that protected files licensed to you will not be over-written accidentally.Synchronize what you want, where you want.

SyncWrangler lets you limit synchronization to music of a certain genre, artist or encoding type while ignoring others. This is very useful when synchronizing to small portable devices from large music collections. Conversely you can synchronize all music except for certain genres, artists or types.
These settings give you extreme flexibility and allow you to optimize music collections for different family members with different music tastes and iPod storage capacities.Don't buy music twice.
Buy music from the Apple store or from any other source at home, the office, or on the road and then use SyncWrangler to transfer and synchronize your purchases safely between all your PCs, Macs and iPod devices.
By keeping music & video collections throughout your household synchronized, SyncWrangler helps prevent inadvertent purchases of duplicate songs by separate family members and protects purchased music from inadvertent loss.
SyncWrangler is an invaluable addition to your music and video collection.
SyncWrangler expands iTunes music file management capabilities by enabling an effective two-way exchange of music and video collections between any number of iPod devices and iTunes libraries. As your iTunes collection grows SyncWrangler will become even more valuable.



Buy Now $19.99 USD
Software Information
System Requirements
Version:
1.0.0

MacOS X (10.4 or newer)
Universal Binary
PowerPC G3 or better
Intel Core Duo Processor or better
256MB RAM
20MB free available disk space

License:
Free to try, $19.99 to buy
File Size:
1.34 MB
Screenshot:
View Screenshot
Rating:
SyncWrangler for Mac Features:
Backup or synchronize music files between any number of iPod devices and any number of iTunes music collections.
Restore an iTunes music collection to a PC or Mac using iPod as the original.
Merge separate music collections quickly and efficiently. Only new files are copied and nothing is duplicated.
Use iPod as a "conduit" to synchronize any number of iTunes libraries at home, work or laptop computers.
While merging music collections, ensures that original protected music files licensed to you are not accidentally replaced by identical music files licensed to others or encoded in other formats.
Keeps protected music files licensed to others out of your collections at your option.
Keep all your iPod devices synchronized regardless of which iTunes Library they are "married" to.
Synchronize the music on your iPod with other iTunes libraries (two-way) while ensuring that protected files are not over-written with each other's similar files.
Reduce or eliminate duplicate music files during synchronization.
Use SyncWrangler's advanced music filtering capabilities to:

Only copy or synchronize music from a certain artist or genre.
Only copy or synchronize music files of a certain type (.mp3, etc.)
Define wildcards that can include or exclude music files based on the file's physical location (file path) on a hard drive.

Versions of SyncWrangler are available for Windows and Mac OS X including the new Intel-based Macs.
SyncWrangler remembers the settings for each iPod connected to an iTunes library.
Automatic synchronization can be triggered by just connecting an iPod to your computer.
RELATED SOFTWARE DOWNLOADS FOR SYNCWRANGLER FOR MAC