Print2Flash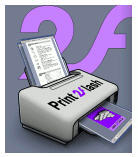 Print2Flash lets you easily convert any printable document (e.g. Microsoft Word, or Excel, or PowerPoint document) to an Adobe ® Flash ® file (file with SWF extension).
This file can be shared with users who don't have the software that created the original document (for example, Microsoft Word).
You can view such files with Adobe ® Flash ® Player that is available across a number of operating systems. And these files can be easily published on the Web as well for fast and easy access to them from anywhere across the globe.






Software Information
System Requirements
Version:
2.7.3

Windows 9x, 2000, NT, XP, Vista, 2003
Pentium II CPU
64 MB RAM

File Size:
1.65 MB
License:
Free to try, $80.00 to buy
Screenshot:
View Screenshot
Rating :
Print2Flash Pro Features:
Conversion documents to Flash via printing
Drag and drop SWF file creation
Right-click Print2Flash SWF file creation
Manipulations with converted documents (resizing, search, etc.)
Converted document interface customization
Option to remove any buttons from converted document interface
Option to remove Print2Flash logo from converted documents
Option to protect from copying text from converted documents
Option to disable printing of converted documents
Programmatic access to Print2Flash documents
Accessibility for users with disabilities
Batch processing
Image storage optimization control
Flash Player version optimization
There is a number of benefits in publishing documents as Print2Flash documents. Here are just a few of them:
Greater Accessibility Once converted
to Flash, a document can be easily viewed in any Internet browser. Internet Explorer, Firefox, Mozilla, Netscape, Safari, Opera, and others. As more than 98% of all browsers have the Flash plug-in installed, you aren't required to install any special software or require your audience to do it;
Compatibility
Everyone who has a computer including those on Macs, Linux, Solaris, HP workstations, PDAs (PocketPCs and PalmOS), and handheld devices (with an integrated Flash player) can watch your document in Flash format. There's no limit in terms of devices or computer operating systems;
Reduced Files Size
A document converted to Flash can drastically reduce the size up to 1/10th of the original file size;
Display Resolution
Flash files can be played at virtually any resolution and/or screen size, making this file format an ideal way to distribute presentations across many display devices;
Internet Distribution
Distributing your documents on the Internet for other people to see is easier said than done. Not everyone has applications required to view your document installed on her PC. But once you upload a Flash file to any server, forum and discussion group, anyone can view it;
More Distribution Options
Flash, for the reasons previously listed, is also an ideal format for distributing your documents on CD-ROMs. It allows multi-platform compatibility while providing a lean and fast performing file;
Web Page Embeddable
Print2Flash documents can be shown on the Web not only as a standalone document in a separate window but also can be embedded in a web page and shown inside it altogether with other web page content. There can be even multiple documents shown on a single page;
E-mail-Ready
Even if you want to send a document to someone by e-mail, converting it to Flash may be a better option. The file size is smaller, and it doesn't clog your recipient's inbox. You also ensure that the recipient can see the file without loading other software except web browser or Adobe Flash Player;
Secure
Others can edit your documents if they have the application which can edit that type of documents installed on their machine. This is not the case for Flash files. However, they allow you to maintain more control over your document content, if needed. You may optionally prevent your document viewers from copying the document text or from printing the document;
Firewall Friendliness
Flash-based content has no problem going through firewalls because it's like standard Web content.
Related Tutorials:
How to Convert a Document to Flash SWF File?
RELATED SOFTWARE DOWNLOADS FOR PRINT2FLASH