Flash4D - A Flash(tm) Intro Builder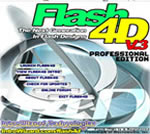 The future of building Flash(tm) Intros is here, simply select the intro, enter your text, and click Build. It's only three simple steps to website fame with Flash4D! Flash4D is the latest Intro Builder technology now including some amazing features that makes it stand out from the rest!
Why hire a professional web designer when you can have your own professional Flash(tm) intros created in less than 3 minutes and save tons of cash (literally!). Now featuring over 41 intros that you can create unlimited times! Take Flash4D for a test spin and download the trial, or buy it today for only $49.95 and gain access to all of the wonderful features! If you would like more than what Flash4D Home Edition offers, checkout Flash4D Professional Edition if you're looking for the ultimate in custoization (includes .FLA files of over 55 intro templates)!
Flash4D is a revolutionary Flash Designer software that is not only easy to use, but also powerful in what it can create for you. Featuring an easy to navigate system that will display the information you need fast and quickly. Find out why other customers have chosen Flash4D and what they have to say about it!
Software Information
System Requirements
Version:
New version

Windows 8/7/XP/Vista
Basic 512 MB of RAM
Basic 300 MHz PC
800 x 600 Resolution Monit

File Size:
29.6 MB
License:
Free to try, $49.45 to buy
Rating :
All Features of Flash4D - A Flash(tm) Intro Builder :
Create UNLIMITED Flash Intros!
Easy Design Interface.
Includes 41 Professional Intros NEW!
1, 2, 3 Step Process; no hassles.
Ability to edit the background color and size of your intro.
Ability to add up to 11 paragraphs or lines of text on certain intros NEW!
Change the text color, angle, fade amount, size, and more! NEW!
Change images on the new Image Replacement intros! NEW!
Ability to specify a loading and welcome message for your intros.
Ability to specify your own Enter Button URL to redirect to when your exciting intro is done.
Powerful Build function creates the intro and the HTML file for it, so you don't have to do as much work!
Includes a preview mode so you can see what your Intro will look like before you build it.
Instant Build Process: it only takes seconds on most computers to create the intro.
Preview Intro: check out the intro with sample text and images before you modify!
FREE software upgrades: catch the low price now, and benefit from FREE software upgrades!
Support Center to answer your every question.
Support Forum, get answers to your questions quickly online!
Build in tutorial / FAQs!
Free downloadable software trial.
Custom Intro Music capabilities! Choose from over 200 loops and songs! NEW!
Choose your own enter button! NEW!
Choose your own replay and even a contact us button! NEW!
Edit the Flash features and choose from over 20 professional designed HTML intro pages for your intro pre-made and presorted! NEW!
Flash4D also now includes some bonus additions such as multiple backgrounds to choose from -- inspire yourself by showing your freedom in your choice of backgrounds.
A Handy Comparison Chart.
More Screenshots - Click each image to enlarge!