PBEmail 7 ActiveX Edition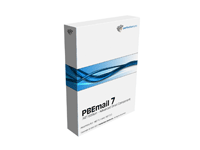 Award-winning PBEmail™ 7 ActiveX Edition is an Email Component ActiveX DLL. It can send emails without any SMTP server configuration by the user.
PBEmail detects the recipient's SMTP server and sends each email directly, bypassing any SMTP server!: No other mailing component does this.
You can send a virtually unlimited number of emails simultaneously because PBEmail is fully multi-threaded.
Security is important for us, and that's by PBEmail includes SSL/TLS support, and S/MIME signing and encryption to be one of the most secure email component in the market.
Every Email sent using the PBEmail Component can include attachments, and can be formatted in HTML, text or alternate. It supports related content, and you can even ask for a receipt when read. XML export and import it's fully supported.
If you are a Office developer, you can also integrate PBEmail in your applications, since PBEmail is fully supported under VBA enviroments, including but not limited to Microsoft Word, Access, Excel, from versions 97, 2000, XP, 2003 and 2007.
Version 7 improves performance over previous version, by using a high performance cache of DNS server queries, additional ESMTP support and reviewed and improved algorithms and network calls. Advanced logging capabilities are also now built-in into PBEmail allowing you to easily log and/or display even SMTP server operations.

Download Trial 4.81 MB
Software Information
System Requirements
Version:
7.0 ActiveX Edition Build 4466

Windows 8/7/XP/Vista
Pentium II CPU
512 MB of RAM

License:
Free to try
File Size:
4.81 MB
Rating :
Key Features of PBEmail 7 ActiveX Edition:
Compatible with 95/98/NT/Me/2000/XP/Server 2003/Vista
PBEmail is compatible with ALL Windows versions. In fact, it works great from Windows 95c and higher (works with XP SP2, Server 2003 and Vista too!).
No configuration needed
PBEmail doesn't require any configuration by the user, there is no need for an SMTP Server, there is no need for a DNS server. As a matter of fact, there is no need to configure it at all!
Sends emails directly
Because of the technology PBEmail uses, the emails you are sending get to the recipient directly, and there is no delay. Better still, there is no need for intermediate servers to handle your emails: they go directly from your computer to the recipient.
Improved performance
Version 7 includes support for ESMTP, a high performance cache for DNS queries and revisted algorithms and network enabling your application to send email even faster than with previous versions.
Logging capabilities included
A complete logging model is included and supported, which allows you to easily log each sending process including even the operations sent and received to the server. This model allows you to easily extend the default logging capabilities to allow custom formats/filter and even loggers.
Secure protocols SSL/TLS supported
PBEmail supports connections using SSLv3/TLSv1 security protocols, that will assure that no third party will be able to intercept the connection with the remote server. Implementation of this protocols it's included, so neither CryptoAPI or OpenSSL are used.
Secure MIME supported
PBEmail fully supports S/MIME 3.0 for signing and encrypting. This will also assure that the email it's sent by you, and that only can be read by the recipient. Implementation of this standards it's also included, so neither CryptoAPI or OpenSSL are used.
XML export and import
You can export any email to XML, and also import from XML. This allows you to store or transmit emails in XML format, and the ability to import them back to email objects to be sent. Implementation of XML Parser it's included, so MSXML it's not used.
No need to know API
There is absolutely no need to struggle with API, no need to work with the Winsock Instructions and no need for endless coding. PBEmail is very easy to use, and it has been designed to make your application work exactly as you like without the need for you to write complicated code.
VBA (Microsoft Office) Supported
PBEmail supports Visual Basic for Applications, the most used programming system for Office applications. You can easily use PBEmail in your VBA applications (including Word, Excel and Access), using both early or late binding.
Send unlimited numbers of emails simultaneously
You can select how many emails are sent at the same time. All the other emails will be added to an internal queue that is always ready. If you like, you can set this queue to an unlimited mode, and all the emails will be sent without delay.
Supports Authorization
PBEmail supports the most popular authorization methods such as CRAM-MD5, PLAN and LOGIN. These methods can be used to authorize with SMTP servers when PBEmail is not working directly and it's sending Emails through your SMTP server.
Supports related content
PBEmail supports related content. You can create emails that contain images or files linked in the body as attachments. Check example 2 included in the PBEmail download for more information.
Unlimited Attachments
You can add attachments to the emails you are sending, and there is no limit on how many attachments you can add.
HTML, TEXT and Alternate Format
You can easily change your body to appear as HTML or text, and even send both as an alternate body. HTML bodies (or alternate) are more powerful and let you add your own style to your emails.
Supports "Ask for Receipt" Email Function
You can easily flag the message to get a receipt sent back to the FROM address when the recipient reads the email message.
Merge module included
Windows Installer is being used everywhere. PBEmail includes a Merge Module for Windows Installer so you don't need to worry about how PBEmail is installed with your application.
24h Online support included
PBEmail includes 24h Online support. This will assure you that you will always obtain an answer to your questions in a fast and professional way. All our support personal it's fully qualified, and will be able to answer all your questions and solve all your problems. You are not alone!
Full Documentation included
We know one of the most important part of a component is the documentation, and that's why PBEmail includes one of the most complete documentation available on the market.
RELATED SOFTWARE DOWNLOADS FOR PBEMAIL 7 ACTIVEX EDITION