FlexiMusic Composer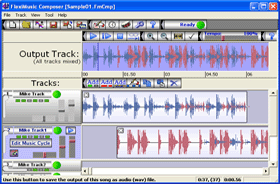 FlexiMusic Composer is a music composing software for composing, editing and mixing of music using sampled instrument sounds. Produce complete song by composing your samples & voice. Make your own song at home on your PC. Arrange your samples rhythmically and make small music cycle of looping melody and add effects to your music. Sequence them on unlimited no of tracks to compose your complete music with lyrics. You can add all the samples in your hard disk to its collection for easy access. Compose your own music and song from scratch.




Software Information
System Requirements
Version:
Nov2006

Windows Vista/XP/2000/Me
300MHz Pentium Processor
64 MB RAM (or higher)
10 MB Hard disk

File Size:
10.4 MB
License:
Free to try, $20.00 to buy
Screenshot:
View Screenshot
Rating :
Some of the features are listed below:
FlexiMusic Composer consists of full sound sample library. It includes all the instruments of a symphony orchestra - strings, brass, woodwinds, percussion, pipe organ, harpsichord, and many more fine instruments.
FlexiMusic Composer is organized into tracks. Each track can have many patterns, and each pattern contains an unlimited number of instruments. You can also add an unlimited number of tracks to a song.
Track Type: FlexiMusic Composer has three types of tracks, Step Cycle, Bar Cycle and Single File/Voice.
The Music Cycle is the sound source to use for every block of play position on the track.
Choose an instrument from the available instrument lists. FlexiMusic Composer has more than 600 instruments sounds, including congas, kick drums, snares, guitars, basses, pianos, strings and many more.
Unlimited Number of Instruments: Any number of instruments can be added as per the requirement of the song.
Unlimited Voices: Many lyrics can be added to the song. There is no voice limitations for FlexiMusic Composer.
It can handle hundreds of sounds and all can be read at the same time.
It has many effects like Volume and Pan, Equalizer, Echo, Wave on Wave, Reverse, etc...
Unique pieces of melodies can be created using FlexiMusic Composer.
The basic output of FlexiMusic Composer is loop-able pieces of music organized into tracks. Each track consists of one or more patterns that are triggered in the Edit Music Cycle loop.
FlexiMusic Composer's output mix allows you to stretch this basic unit of music into a full-length composition by turning tracks ON or OFF as the song plays. You can add an unlimited number of mixes to a song.
Only a couple of megabytes is necessary to save your songs in the FlexiMusic Composer file format (*.FmCmp)
The total output song can be saved as a WAV file (*.WAV).
Although FlexiMusic Composer is user-friendly, meager in price, it has powerful interface and large capabilities.
If you are fond of music, you'll definitely love the experience of creating music of yourself. All you need is a personal computer, FlexiMusic Composer and creativity.
Who can use it?

FlexiMusic Composer software is used by digital musicians, music composers, sound engineers, etc., to create music as per their creative skills. The average computer user can become a digital musician without using any musical instruments. All you need is creative thinking, and an interest in music as a hobby. You can create easily and quickly from your imagination.





RELATED SOFTWARE DOWNLOADS FOR FLEXIMUSIC COMPOSER