EasyASP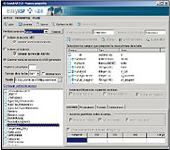 easyASP is a powerful and easy to use tool that generates ASP scripts (pages that contain sequences of commands) for querying and modify your data bases on the Web. You just visually select the tables that you wish to generate scripts for, the actions allowed on each table and on each table's field, optionally the field's properties, pre-built and custom validations, access control to the generated scripts and custom filters end users can apply on the data and EasyASP will generate all the necessary scripts for querying and modify the tables on the web.





Software Information
System Requirements
Version:
2.0

Windows 95, 98, Me, 2000, XP or higher
Pentium 166mhz
16Mb RAM
5Mb free disk space
Internet Explorer 5.0 or higher

License:
Free to try, $15.00 to buy
File Size:
4.46 MB
Screenshot :
View Screenshot
Rating :

What does easyASP do?

easyASP generates ASP scripts for query and modify your data base's tables on the Web in minutes, you just visually select the tables you wish to query and modify, easyASP does the rest. Optionally easyASP allows you, among other things, to:
Select the allowed actions for each field (show when querying, enter a value when inserting or updating and specify a default value)
Change each field's format when showing in queries (font properties, font color, alignment, etc.)
Change the control type for each field when inserting or updating data (HTML Editor, plain text, password, file upload, multiline, dropdown with data from other table, dropdown with custom data, radio buttons, checkboxes, etc.)
Configure validations on each field, easyASP provides standard validations and allows you to create your own validations in ASP.
Configure access control to the generated scripts asking for username and password (you can specify a value for the username and password or store them in a table and validate against it)
Define filters to be applied by the final users, which easyASP will automatically generate
Define text searches on a table's fields
Automatically resynchronize your projects when a table definition has changed
Customize titles and error messages
easyASP provides look and feel templates designed by experts in the Web design field
How will easyASP help yoou?
Reducing development time, easyASP automates a great part of development times and being a visual tool you don't need to learn a new programming language or train your development team for use it.
Lowering the costs since you won't have to acquire licenses for complicated similar environments that allows to generate scripts with functionalities sometimes reduced (compared to easyASP) or developing complicated programs to obtain this objective.
Eliminating errors in your products since easyASP is the result of years of experience in the field of web projects development. The algorithms of easyASP have been deeply proven and optimized to offer the highest security along with the best perfomance.
RELATED SOFTWARE DOWNLOADS FOR EASYASP