Easy Projects .NET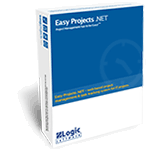 Easy Projects .NET - the latest generation project management software and task tracking tool. It is called "Easy Projects" for a good reason - it was specifically designed to make project management straightforward and hassle-free.
Easy Projects .NET has exactly those project, task & issue tracking tools and features that you need and without complicated setup. Easy Projects .NET has a user-friendly and intuitive interface.
Despite its simplicity of use, Easy Projects .NET is a powerful and sophisticated project management system based on the Microsoft .NET and SQL Server 2000 technology. These robust technologies provide you with scalable and flexible solution to manage software projects of any complexity.

Buy Now $223.00 USD
Software Information
System Requirements
Version:
1.0

Windows 8/7/XP/Vista
Pentium II CPU
512 MB RAM

License:
Free to try, $223.00 to buy
Screenshot :
View Screenshot
Rating :
Features & Benefits for Easy Projects .NET:
Multi-nesting (hierarchical) Projects and Tasks
Our system provides for unlimited projects & tasks with as many sub-levels of hierarchy as you need. You can track large tasks by splitting them into small ones, assign deadlines and team members, specify estimated durations and activity categories. Be effective - eat the elephant bite by byte!
Fully Customizable User Permissions
Easy Projects .NET uses a multi-level permissions system based on the user's role in a project. Each role has different access rights and can work only with the objects available to them. In addition, each role can be restricted to certain actions such as deleting the project or task, submitting a new request, assigning resources, etc...
Detailed Project Statistics & Reports
Easy Projects .NET has a special Reports section. It provides you with set of ready-to-use reports showing all aspects of the project development process at a glance. You can view a summary for all projects, resource workloads, team member timesheets, estimated time vs. actual time and issue and request statistics. Flexible filters make it easy for you to see only the information relevant to you at that particular moment. In addition, since the Microsoft SQL Server 2000 is used as a database, you will be able to create custom reports using any 3rd-party report engine such as Crystal Reports or Active Reports.
Employees/Contractors Timesheets
Do you want to know exactly how your project members spent their working time? Our easy-to-use timesheets will help you. Each team member will just select the project and task assigned to him, enter number of hours, specify the status of the task and voila! - you have all necessary data in real time.
Customizable and Expandable Source Code edition
User interfaces, including colors, graphics and text, can be customized according to your company policies and culture. Easy Projects .NET is built on the Microsoft .NET framework and Microsoft SQL Server 2000. This means that it can be easily modified to meet your requirements or integrate into your existing system. If you need help creating add-on modules, the Easy Projects .NET team will be happy to assist you. Buy Easy Projects .NET source code now and have full control over your application development.
E-mail Notifications & Alerts
This feature will keep your team members updated in real-time and provide excellent communication within a team. Each user will be able to receive an email when the task or project he is working on is changed or assigned to him.
Issue (Defect) Tracking
Easy Projects .NET has a built-in Issue (Defect) tracking system. You can use it for your internal issues tracking or for client support. Once a defect is submitted, it will be automatically converted to a task and assigned to a member of the team responsible for the project. You will be able to track how many hours were spent on bug fixing and compare actual times versus estimated.
Customers Requests Tracking
Easy Projects .NET allows you to keep track of all customer requests. Either a customer or a project manager can submit these requests. All hours spent on the tasks that are out of the original specification scope will be logged separately and this data can be linked to your billing system.
Message Forums
This is another useful tool that will facilitate project's team collaboration. You will be able to attach a discussion board to each of your project tasks. You can have as many topics as you need. This feature will help your team to improve communications and keep track of all discussions.
File Attachments
Easy Projects .NET allows attaching files to a project or a task. The files can include executables, source codes, documents, images, etc… Forget about searching through thousands of emails. Just open the project or task and see all relevant files.
RELATED SOFTWARE DOWNLOADS FOR EASY PROJECTS .NET