All-Business-Letters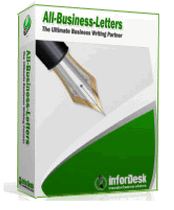 The most compressive business writing letters software contains huge collection of business, sales and marketing letters and also writing guidelines, editing and communication tools. Including 4,500 essential Business, sales and marketing letters, correspondences and also writing guides in more than 1,000 categories that covers all business situations. All-Business-Letter also presents robust built-in word processtem with word andsor, Send fax system, document archive & management system, automatic spell-check sy phrases databases in general English, technical, law & legal firms, powerful search and index system and etc. All-Business-letters brings you ability to export your letters and documents to many formats. Print your letters and documents to PDF format with ability to set security options such encryption and username/password. All-Business-Letters bringing together professionals and expert in each field and the efficiency of an executive secretary.
All-Business-Letters is the solution for companies and organizations in any range and also self-employed and home business who need to facilitate letter writing in standard format. Save valuable time, money and effort, and start concentrating on the core activities that impact your bottom line!
Software Information
System Requirements
Version:
5.2.0.17

Windows 8/7/XP/Vista
512 MB of RAM
200 MB of available hard disk space.

File Size:
14.7 MB
License:
Free to try, $59.95 to buy
Screenshot :
View Screenshot
Rating :
Key benefits of All-Business-Letters:
Write like a professional – Many professional writers contributed their valuable experiences and letters so you'll never be at a loss for words again
Write with confidence – With All-Business-Letters at your fingertips, you can quickly handle hundreds of writing tasks with knowledge, skill, and confidence.
Create High-quality and well formatted letters – We give you user-friendly software along with thousands of sample sentences and phrases.
Save time and effort – Don't start from scratch anymore when you need to write business, sales and marketing letters
Improve your communications with customers, partners, employees and investors.
Improve your overall productivity by rapidly handling virtually all business situations and conditions.
Easy to use - categorized structure, search ability and robust built in word processor (Similar MS-Word)
Save money - You can create standard and effective professional business, sales and marketing letters without paying high-priced consultants.
Key Features of All-Business-Letters:
Easy browse and view letters
Search in titles and contents of letters
Index search system with auto complete ability
Easy product navigation, quick search, filters.
Print and generate print preview
Edit and modify letters with robust and high-features built-in word processor (Similar MS-Word) - ($40.00 Value)
Automatic Spell check system with huge database of words and phrases in general English, technical, law and legal firms
Save and archive letters and documents as .rtf format (can be open with all standard editors in Windows, Mac & Linux/Unix (MS-Word and etc)
Send letters with Fax thought easy to use and robust built-in Fax system - ($30.00 Value)
Scan documents and insert images to documents directly
Edit inserted images with simple and efficient image editor
Print letters and documents to PDF format with ability to define security options and settings such encryption and username/password
Export letters and documents to many formats such as HTM, TIF, JPG, GIF, TXT and etc
Multi-lingual user interface; Includes English, Chinese, Dutch, Francais, German, Italian, Russian, Spanish, Turkish & etc
Multi-skin user interface; Choose software skin among 10 available skins; such XP skin, Vista skin, Office 2007 skin & etc
Insert header and footer for letters automatically in both text and graphic format
Copy and paste (formatted) to all editors and word processors
RELATED SOFTWARE DOWNLOADS FOR ALL-BUSINESS-LETTERS