Cool Info XP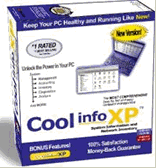 Cool Info XP is the number one system information, inventory, audit & diagnostic utility. It provides all the information you could ever need to know about your hardware, software and other devices, including: CPUs, modems, BIOS, drives, graphic cards, drivers, files, fonts, network, internet, printers, software, multimedia and DOS and Windows memory.
Along with an easy to use graphical user interface, Cool Info XP allows for easy exporting to database and many other formats. Multiple Cool Info client's can use the same central database to allow for a constant network inventory of the computers connected to that network. Users love it for the simplicity, Technicians love it for diagnostics, Accountants love it for its detail, Network Administrators love it for the automation, CEO's love it for the price.




Software Information
System Requirements
File Size:
11.7 MB

Internet Explorer 4.01 Service Pack 2 or greater
Windows 95,98, ME or greater
Windows 2000 Service Pack 1 or greater
Windows NT Service Pack 5 or greater
Windows XP or greater
20 Megabytes free disk space
32 Megabytes RAM

License:
Free to try, $29.95 to buy
Screenshot:
View Screenshot
Rating:
Highlighted Features in Cool Info XP:
Supports viewing of system information from a remote machine with Cool Info XP installed.

Cool Info XP's "Report Viewer" gives a summarized report of all components on your machine, along with a report of other clients computers.

"Internet History" allows you to see web pages have been viewed on your computer or on a client's computer, and "Open TCP/IP Ports" allows the user to scan for any open ports that are on the machine.

"Applications in Memory" shows which applications are currently running on the system, and gives valuable information on the running program, such as where the application was started from and a brief description of the program that is running.

The "Application Activity Log" is a security feature that monitors all the applications that have been run on your computer and on your client's computers, which are then displayed in an easy to read format.

The "Drivers Installed" feature displays any drivers that are currently installed on your system, and shows the current activity of each driver.

Cool Info XP detects every device installed on a local or a remote machine, and the resources each device uses.

Cool Info XP also has a "System Summary" report which gives a detailed description of your computer's BIOS, and other important system information.
More Screenshots - Click each image to enlarge!