BloodyFight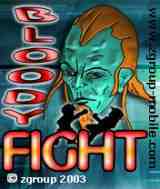 In BloodyFight you take the role of Joe who is searching for his missing girl friend. He then discovers that she has been kidnapped by a gang and he will try to see who has taken her away! He has to meet several opponents and beat them in order to confess where they have hidden her. Fight hard, you are her last hope!

Joe has to fight against several opponents so that he can trace where they have hidden his girlfriend. The fighting power of the opponents increase as soon as you come close to rescue your girlfriend. With each opponent he has to play three rounds, and if he wins in two of them then the opponent will confess will give Joe a link to where the girl is hidden.

The game offers also several types of attacks and defenses. Also each opponent has specific weak points that Joe has to take advantage of.
The game is available for the following mobile phones: Siemens SL4xi, Siemens M50, Siemens MT50, Siemens C55, Siemens S55, Nokia 6310i, Nokia 3410, Nokia 6610, Nokia 7210, Nokia 7250, Nokia 6100, Nokia 5100, Nokia 6800, Nokia 7650, Nokia 3650, Nokia N-Cage and Motorola T720. There's also a 100% MIDP compatible version ready to be ported to other devices.



Buy Site: http://www.zgroup-mobile.com/reviews/BloodyFight/BloodyFight.html
---
Screenshots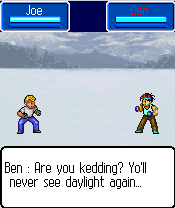 Key Features:
Interesting story that will attract a wide audience.
Sound & Vibrator effects make the game more enjoyable.
Controls:
1: Weak Punch
2: Guard
3: Weak Kick
4: Move Left
5: Strong Punch
6: Move Right
8: Charge
9: Strong Kick