AV Music Morpher - MP3 Player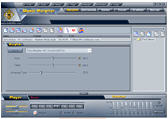 More than an advanced MP3 Player, AV Music Morpher is a real-time audio editor software, with unique audio effects. The new version with remarkable enhancements will certainly satisfy all music tastes, from the most inexperienced to the most professionals.
Combined MP3 player, music morpher and wave editor. Morph voices totally, mix effects, change tempo, add beat tracking, Cher modulation; copy, cut, paste, and edit sound files; covert file formats, rip from CDs, burn audio files to CDs and data CDs/DVDs, and make CD/DVD covers and labels.
Software Information
System Requirements
Version:
3.0

Windows 8/7/XP/Vista
CD drive, sound card & speakers.
CD Writer & Printer (optional)

File Size:
7.32 MB
License:
Free to try, $29.95 to buy
Rating :
What's new in AV Music Morpher 3.0'compared with its previous version?
Play and edit audio files smoothly with new algorithms .
Burn audio file to CDs and data CDs/DVDs.
Apply 13 new single effects: 3D Sound, Duet, Airport, Bass Boost, Bass Limit, Tipsy Singer, and others
Apply 3 new advanced effects: Wah-Wah Filter, Dynamics Morpher, and Chorus Plus
Change singers'voices to robot voice with Robot Voice module
Create dozens of amazing voices and effects with Voice LCP Pitch Changer
Design not only CD covers and labels but also DVD's.
Organize favorite songs better than ever with easy-to-use Organizer.
Features of AV Music Morpher :
Player with Multiformat Playback
Play music in many audio formats: MP3, WAV, OGG, APE, AIF, IRC, NIST, AU, and MP2
Multi-channel Mixer
Mix a music file and a voice file to make a new song (applicable to chosen parts of songs as well)
2-Dimensional Voice Changer
Create different voices by adjusting Pitch and Timbre values
Multiformat Audio Converter
Convert audio formats from MP3 to WAV, WMA to MP3, or between any of the supported formats, including OGG, APE, AIF, IRC, NIST, AU, and MP2
A Huge Effects Library
Customize music by the available beats, many single and special effects
CD Grabber
Built-in MP3 ripper to rip audio tracks from CDs to your hard drive in any supported format
Effects Mixer and Editor
Modify and combine effects for better music quality
CD/DVD Burner
Burn audio files to CDs and data CDs/DVDs. Save time burning with multi-disc projects.
Digital Audio Recorder
AV Recorder to record sounds from a microphone or other sources
CD/DVD Cover Editor
Easily design disc images for your album
Wave Editor
Accurately extract parts of songs and to join or insert those fragments into new music files
Mix multi channels for remixes and medleys
In audio production, if you want to mix a music file and a voice file to make a song, Music Morpher helps you to do so. In the Wave Editor module, copy the source track, then go to the destination track, locate the pointer, and press "paste mix" to mix the files. You can perform this function on just part of a file, also.
Add various beats and powerful effects
This audio editor software allows you to add beats and effects to your songs. Choose from 50 available beats, including various drums (Bongo, Hiphop, Bass, Rhythmic, Petty etc.), Slap, Dog, and many others. The effects library includes 32 single effects (Music Morpher Gold 65) and 35 special effects (Music Morpher Gold 49) for you to edit and mix your own new sounds. New noticeable effects in this new version can be counted such as 3D Sound, Duet, Chewed Tape, Wah-Wah Filter, Dynamics Morpher, Chorus Plus, etc.
Burn audio and data CDs/DVDs
A useful upgrade of this audio editor software is that its Burner module allows you to burn audio CDs and data CDs/DVDs to create family albums. Then you can use CD/DVD Cover Editor to design a CD/DVD cover and label for your new compilations. In addition, this CD Burner module can also help you erase CD and DVD rewritable disks.
Design CD, DVD covers and labels
AV Music Morpher 3.0 also improves its user-friendly Cover Editor, helping design CD & DVD covers, labels, and inlays. Edit your own texts and images for the background, list song names in various fonts and colors and print them out.
Change voice and tempo of music
You can make original songs completely new by morphing the singer's voice (to male, female, kid, girly, manly, warm, etc.) or changing song's tempo. A singer's voice can be altered in pitch, timbre, and/or frequency. You can also make a song faster or slower by changing its tempo value, thus changing its style and genre.
Chop large audio files
AV Music Morpher allows you to cut big audio files into pieces with high accuracy. In the Wave Editor module, the file is displayed in wave chart and time scale while playing. Locate the pointer in the wave chart, and copy, cut, and paste to split it into desired parts.
Join audio clips
Now that you can cut audio files in the wave chart, you can use the same module to join files together. With Wave Editor, you can also insert or take out parts of songs for more editing options.
Convert audio formats
Music Morpher includes an MP3 converter to convert audio formats from MP3 to WAV, WMA to MP3, or between any of the supported formats, including OGG, APE, AIF, IRC, NIST, AU, and MP2. To convert a file, simply load the file to the Morpher module, press Morph, and choose the new format.
Rip audio tracks to hard disk with MP3 ripper
With its built-in MP3 Ripper, this audio editor software not only can burn CDs but also rip audio tracks from CDs to your hard drive. In AV Grabber (the MP3 Ripper), you can select the tracks to copy and choose any supported format for the destination file.
Record voice/sound/music with sound recorder
Recording is a crucial step in making your own music CD. Music Morpher includes a MP3 Recorder to record your voice from a microphone or from other sources, including line-in or stereo mix. When recording, you can listen to the recorded audio without saving it, and then redo it until you are satisfied with its quality.
Make karaoke background music
You can make a karaoke track from a recorded song by removing the vocals from the track. To obtain this result, use the Karaoke effect in the Morpher module. While playing a song, click the effect to apply, and you'll hear the result. When you are satisfied, click the Morph button to save the file as a new song.
Enhance music quality
Your recorded music can be enhanced by setting equalizer values and applying audio enhancing effects, then saving to a new file. AV Audio Editor supports a 10-bar equalizer and many mixable and editable effects. For improved music quality, you can modify or combine effects, including Noise Reduction, Auto Loudness, Normalize, 2 Order Equalizer, 4 Order Equalizer, Volume, and Surround.
Advanced morphs
Music Morpher supports high-level morphing tools, including Voice LPC Pitch Changer, Root Formant Mover, and Robot Voice.
Organize music library
Without a good Organizer module, an audio software cannot be called a professional audio editor software. AV Organizer lets you manage your songs by title, artist, album, etc. for convenience.
Benefits of AV Music Morpher 3.0 :
Color up a Music Playback with Different Vocals
Morph music vocals from male to female qualities or vice versa and add special audio effects to your music at the same time
Enhance the Music Quality of a Song
Your low quality songs can be perfectly improved as you wish within a few easy mouse clicks.
Beautifully Duet a Solo Song
Different singing voices from the same artiste make the song way more attractive to enjoy.
Customize Audio Clips for Cartoons, Movies, TV shows, etc.
Create different voices of male, female, adult, baby qualities for different kinds of movie clips
Record Your Karaoke Songs
Cover your own favorite tracks and save them as records of personal practice or for group entertainment easily and effectively
Have More Formats of a Song
Convert WAV to MP3, MP3 to WAV, etc. to make a song suitable with your portable device
Make Your Own CD
Sing, record, burn, personalize CD covers and labels, etc.
Store Your Music Collection
Rip CD tracks, create compilation audio or mp3 CDs
Create Hollow Voices For Your Songs
You can make Britney Spears' "Baby one more time" sound like Cher's "Believe".
Make a Remix or Medley of Songs
Mix two voices to produce hip remixes and medleys for dancing, DJ-ing, and etc.
Turn a Pop Song into a Rock Song
Without using any other instruments but this software, you can rock a song easily
Create Your Own Ringtones from Your Favorite Songs
Make your cellphone a music player with unique ringtones of your own preference
Make Your Song More Musical
Create a chasing voice to make singing more sentimental
Podcast Your Own Digital Music
Create your podcast to sync with mobile device
Manage Your Music Effectively
Organize your music in the order you choose to help you easily find a favorite tune.
AV MUSIC MORPHER COMPARISON:
Features

MP3 Player - Morpher
Download

Music Morpher
Download

Music Morpher Gold
Download

Price

$33.20 USD


$47.45 USD


$94.95 USD


Play music and audio file

Yes

Yes

Yes

Change singing voice's pitch and timbre

Yes

Yes

Yes

Change singing voice's frequency

Yes

Yes

Yes

Change tempo of song

Yes

Yes

Yes

Add beats, drum loops

Yes

Yes

Yes

Convert audio file among 10 formats

Yes

Yes

Yes

Make Cher effect

Yes

Yes

Yes

Reduce noise

Yes

Yes

Yes

Amplify volume of song

Yes

Yes

Yes

Apply preset effects

Yes

Yes

Yes

Edit and mix complex effects

Yes

Yes

Yes

Burn audio files to CD

Yes

Yes

Yes

Rip audio tracks from CD to hard disk

Yes

Yes

Yes

Design CD cover and label

Yes

Yes

Yes

Supported formats
mp3, wma, wav, ogg, ape, aif, irc, nist, au, mp2
mp3, wma, wav, ogg, ape, aif, irc, nist, au, mp2
mp3, wma, wav, ogg, ape, aif, irc, nist, au, mp2
Record from many sources (microphone, line-in, stereo mix, etc.)

Yes

Yes

Yes

Available beats

25

25

50

Preset effects

32

32

65

Editable and mixable effects

32

35

49

Copy, cut, paste, delete sample segment

Yes

Yes

Mix multi tracks

Yes

Yes

Burn Data CD/DVD

Yes

Yes

Design DVD cover and label

Yes

Yes

Morph further with Voice LPC Pitch Changer

Yes

Yes

Morph further with Robot Voice

Yes

Yes

Manage music library

Yes

Yes

Chorus Plus

Yes

Yes

Dynamics Morpher

Yes

Yes

Wah-Wah Filter

Yes

Yes

Morph further with Root Formant Mover

Yes

Extract voice from song or track

Yes

Remove voice from song or track

Yes

Fade in, fade out

Yes

Enhance spectrum peak

Yes

DirectX plug-in effects

Yes

VST plug-in effects

Yes

Multitrack editor

Yes

Envelope Morpher

Yes

Graphic Equalizer

Yes

Mega Reverb

Yes

Multiband Dynamics

Yes

Vibrato Plus

Yes