AV Music Morpher Gold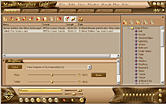 MP3 MUSIC EDITOR SOFTWARE: WAVE EDITOR, MUSIC MORPHER, SOUND RECORDER, MP3 RIPPER, EFFECT MAKER

AV Music Morpher Gold is the most advanced and complete music editor software for creative DJs available in its price range. This DJ software includes all of the common audio editing commands and effects such as wah-wah, flanger, echo - reverb, etc. Distinguished from others, this DJ mixer helps change voice and tempo, add various beats - drum loops, and apply special effects in real time. New version 3.0 improves its Wave editor, letting users edit and mix multi tracks in waveforms to make interesting DJ music, remix, medley, ringtone, duet, and parady, etc.

The Wave Editor is an easy wave editing tool, which can exempt you from buying another audio editing program like Sound Forge. In addition, the Gold Edition 3.0 features new Voice Extractor and Voice Remover with advanced algorithms to split singer voice and music of a song. Music Morpher Gold includes an MP3 recorder and a jukebox. Unlike other MP3 players such as Winamp, MusicMatch, RealPlayer, or Windows Media Player, Music Morpher Gold can play and morph music in real time. Effect mixer and effect library are developed for you taste diversity. This music toolbox also works as an MP3 converter, very helpful in converting MP3 toWAV, WMA or any of 10 supported music formats.

You will find Music Morpher Gold an easy CD creator with: CD ripper to rip audio tracks to hard disk, burner to burn audio CD, data CD and data DVD, cover editor to design CD and DVD cover, inlay and label. This multi format music player and editor supports MP3, MP2, WMA, WAV, APE, OGG, AU, IRC. It is a great choice to play tracks in different formats, especially music downloaded from different file sharing systems such as Kazaa, iMesh, eMusic, Napster, Music Net. Music Morpher Gold is compatible with karaoke player and plug-in. Ideal for morphing music live, remixing DJ music and medleys, making customized CD, karaoke CD, sound track, and audio clips.



Software Information
System Requirements
Version:
3.0.18

Windows 8/7/XP/Vista
CD drive, sound card & speakers
CD Writer & Printer (optional)

File Size:
9.26 MB
License:
Free to try, $99.95 to buy
Rating :
Key Features of AV Music Morpher Gold :
Mix multi channels for remixes and medleys
The newest version of Music Morpher Gold allows you, needless to be a Pro DJ, to edit and remix unlimited tracks to make new interesting medleys and remixes. In the Wave Editor module, import the audio files, edit them in Waveforms and save them in various formats (MP3, WMA, AMV, etc.). In addition, you can also apply real-time effects to the original files.

Add various beats and powerful effects
This MP3 music editor software allows you to add beats and effects to your songs. Choose from 50 available beats, including various drums (Bongo, Hiphop, Bass, Rhythmic, Petty etc.), Slap, Hiphop, Dog, and many others. The effects library includes 52 single effects for you to apply (up to 4 effects at a time) and 49 special effects for you to edit and mix your own new sounds. New noticeable effects in this new version can be counted such as Bounce, Dolly, Wave, Chorus Plus, Noise Reduction, Mega Reverb, Wah-Wah, etc.

Remove/Extract voice out of song
Music Morpher Gold 3.0 improves the quality of Voice Remover and Voice Extractor much further, compared with the previous version. Voice Remover helps you remove vocals from a song, leaving the music intact for karaoke or other purposes. By removing voice and then remixing another voice, you can change the singer or speaker in songs and audio clips.

You can also extract a voice track from a song with Voice Extractor, resulting in a file containing only voice. This tool is useful when you want to change background music for a song or audio presentation.

Burn audio and data CDs/DVDs
A useful upgrade of this MP3 music editor software is that its Burner module allows you to burn audio CDs and data CDs/DVDs to create family albums. Then you can use CD Cover Editor to design a CD cover and label for your new compilations. In addition, this module can also help you erase CD and DVD rewritable disks.

Design CD, DVD covers and labels
Music Morpher Gold 3.0 also improves its user-friendly Cover Editor, helping design CD, DVD covers, labels, and inlays. Edit your own texts and images for the background, list song names in various fonts and colors and print them out.

Change voice and tempo of music
You can make original songs completely new by morphing the singer's voice (to male, female, kid, girly, manly, warm, etc.) or changing song's tempo. A singer's voice can be altered in pitch, timbre, and/or frequency. You can also make a song faster or slower by changing its tempo value, thus changing its style and genre.

Chop large audio files
AV Music Morpher allows you to cut big audio files into pieces with high accuracy. In the Wave Editor module, the file is displayed in wave chart and time scale while playing. Locate the pointer in the wave chart, and copy, cut, and paste to split it into desired parts.

Join audio clips
Now that you can cut audio files in the wave chart, you can use the same module to join files together. With Wave Editor, you can also insert or take out parts of songs for more editing options.

Convert audio formats
Music Morpher Gold includes an MP3 converter to convert audio formats from MP3 to WAV, WMA to MP3, or between any of the supported formats, including OGG, APE, AIF, IRC, NIST, AU, and MP2. To convert a file, simply load the file to the Morpher module, press Morph, and choose the new format.

Rip audio tracks to hard disk with MP3 ripper
With its built-in MP3 Ripper, this MP3 music editor software not only can burn CDs but also rip audio tracks from CDs to your hard drive. In AV Grabber (the MP3 Ripper), you can select the tracks to copy and choose any supported format for the destination file.

Record voice/sound/music with sound recorder
Recording is a crucial step in making your own music CD. Music Morpher Gold includes a sound recorder to record your voice from a microphone or from other sources, including line-in or stereo mix. When recording, you can listen to the recorded audio without saving it, and then redo it until you are satisfied with its quality.

Make karaoke background music
You can make a karaoke track from a recorded song by removing the vocals from the track. To obtain this result, use the Karaoke effect in the Morpher module. While playing a song, click the effect to apply, and you'll hear the result. When you are satisfied, click the Morph button to save the file as a new song.

Enhance music quality
Your recorded music can be enhanced by setting equalizer values and applying audio enhancing effects, then saving to a new file. AV MP3 Music Editor supports a 10-bar equalizer and many mixable and editable effects. For improved music quality, you can modify or combine effects, including Noise Reduction, Auto Loudness, Normalize, 2 Order Equalizer, 4 Order Equalizer, Volume, and Surround.

Advanced morphs
Music Morpher Gold supports high-level morphing tools, including Voice LPC Pitch Changer, Root Formant Mover, and Robot Voice.

Extra effects: fade in, fade out, supported DirectX
Only in Gold Edition can you have DirectX effects enabled, together with other exclusive effects including Fade in, Fade Out, and spectrum peak.

Organize music library
Without a good Organizer module, an audio software cannot be called a professional MP3 music editor software. AV Organizer lets you manage your songs by title, artist, album, etc. for convenience.

Player with Multiformat Playback
Play music in many audio formats: MP3, WAV, OGG, APE, AIF, IRC, NIST, AU, and MP2

Voice Remover and Voice Extractor
Voice Remover to remove vocals from a song for karaoke purposes and the like, and Voice Extractor to extract a voice track from a song

2-Dimensional Voice Changer
Create different voices by adjusting Pitch and Timbre values

Multiformat Audio Converter
Convert audio formats from MP3 to WAV, WMA to MP3, or between any of the supported formats, including OGG, APE, AIF, IRC, NIST, AU, and MP2

A Huge Effects Library
Customize music by the available beats, many single and special effects

CD Grabber
Built-in MP3 ripper to rip audio tracks from CDs to your hard drive in any supported format

Effects Mixer and Editor
Modify and combine effects for better music quality

DVD/CD Cover Editor
Easily design DVD and CD images for your album

Digital Audio Recorder
AV Recorder to record sounds from a microphone or other sources

Music Library Organizer
Create and edit playlists and keep your music folders organized by singers, formats, albums, etc.

Data DVD/CD Burner
Burn audio files to CD in CDA format. Also burn data to CDs and DVDs. Save time burning with multi-disc projects.

Advanced morphs
High-end editing tools of Voice LPC Pitch Changer, Root Formant Mover and Robot Voice

Wave Editor
Accurately extract parts of songs and to join or insert those fragments into new music files

Special effects
DirectX effects and other exclusive effects of Fade in, Fade out and spectrum peak enabled

Multi-channel Mixer
Mix a music file and a voice file to make a new song (applicable to chosen parts of songs as well)

Multitrack Session
Mix many songs into one on a 12-track wave chart. Remix or megamix songs is easier.
What's new in AV Music Morpher Gold 3.0, compared with its previous version?
Mix multi tracks simultaneously with better Wave Editor.
Design not only CD covers and labels but also DVD's.
Burn audio CDs and data CDs/DVDs.
Apply powerful effects in the Morpher (3D Sound, Airport, Bass Boost, Duet, etc.) and Advanced (Chorus Plus, Dynamics Morpher, Envelop Morpher, Mega Reverb, Multiband Dynamics, Graphic Equalizer, Vibrato Plus, Wah-Wah filter, etc.)
Organize favorite songs better than ever with easy-to-use Organizer.
Improve the quality of Voice Remover and Voice Extractor
AV MUSIC MORPHER COMPARISON
Features

MP3 Player - Morpher
Download

Music Morpher
Download

Music Morpher Gold
Download

Price

$33.20 USD


$47.45 USD


$94.95 USD


Play music and audio file

Yes

Yes

Yes

Change singing voice's pitch and timbre

Yes

Yes

Yes

Change singing voice's frequency

Yes

Yes

Yes

Change tempo of song

Yes

Yes

Yes

Add beats, drum loops

Yes

Yes

Yes

Convert audio file among 10 formats

Yes

Yes

Yes

Make Cher effect

Yes

Yes

Yes

Reduce noise

Yes

Yes

Yes

Amplify volume of song

Yes

Yes

Yes

Apply preset effects

Yes

Yes

Yes

Edit and mix complex effects

Yes

Yes

Yes

Burn audio files to CD

Yes

Yes

Yes

Rip audio tracks from CD to hard disk

Yes

Yes

Yes

Design CD cover and label

Yes

Yes

Yes

Supported formats
mp3, wma, wav, ogg, ape, aif, irc, nist, au, mp2
mp3, wma, wav, ogg, ape, aif, irc, nist, au, mp2
mp3, wma, wav, ogg, ape, aif, irc, nist, au, mp2
Record from many sources (microphone, line-in, stereo mix, etc.)

Yes

Yes

Yes

Available beats

25

25

50

Preset effects

32

32

65

Editable and mixable effects

32

35

49

Copy, cut, paste, delete sample segment

Yes

Yes

Mix multi tracks

Yes

Yes

Burn Data CD/DVD

Yes

Yes

Design DVD cover and label

Yes

Yes

Morph further with Voice LPC Pitch Changer

Yes

Yes

Morph further with Robot Voice

Yes

Yes

Manage music library

Yes

Yes

Chorus Plus

Yes

Yes

Dynamics Morpher

Yes

Yes

Wah-Wah Filter

Yes

Yes

Morph further with Root Formant Mover

Yes

Extract voice from song or track

Yes

Remove voice from song or track

Yes

Fade in, fade out

Yes

Enhance spectrum peak

Yes

DirectX plug-in effects

Yes

VST plug-in effects

Yes

Multitrack editor

Yes

Envelope Morpher

Yes

Graphic Equalizer

Yes

Mega Reverb

Yes

Multiband Dynamics

Yes

Vibrato Plus

Yes