Isolist for Excel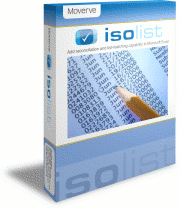 Reconciliation Add-In for Excel, It enabling fast, effective matching between tables in a single pass. this software adds powerful reconciliation functions to Excel, making it the easiest and fastest tool available for reconciling your data directly in Excel. Unlike 'enterprise' reconciliation software, Isolist provides just the functionality you need in a low-price, easy to implement package.
With it, You can save a lot of time, even days, you spend each month reconciling two versions of data; You can find matches easily and handle complex matches; The period end time is at a premium. Automating your reconciliatons relieves pressure on tight resources. Isolist's great flexibility and ready availability means you'll use it over and over again for all sorts of jobs, large and small.
It's very useful for administrators, IT people, accountants, auditors, marketing people or anyone else who works with data and needs to compare more than one source or version. Isolist can help beginners or occasional users to complete their reconciliations more easily and will help even experienced pros to get their work done much faster.
Software Information
System Requirements
Version:
2.0

Windows 8/7/XP/Vista/2000
512 RAM or above

File Size:
1.11 MB
License:
Free to try, $498.75 to buy
Screenshot:
View Screenshot
Rating :
Isolist Features :
Up to 65,0000 rows per list.
VBA automation Start a reconciliation process from your Excel VBA code using a custom procedure method provided with Isolist. Great for those situations where your reconciliation task is part of a larger automated process.
Value reconciliation Isolist reconciles two lists together and compares the value associated with each row - the standard functionality required by accountants, auditors and others.
Row filters Apply a reconciliation or a reconciliation stage to a subset of the rows in your lists by using Row Filters.
Multiple matching rules Within a single reconciliation task, use several matching rules to define which rows from each list should match. Each rule creates a relationship between a column from each list:- multiple rules let you use several columns to build up the complete logic you need to match rows between the two lists.
Multiple reconciliation stages Split your reconciliation task into two or more stages to apply different matching rules or tolerances to different rows in your data. Use this feature either when your lists contain different row or transaction types that require specific rules to be matched, or else to provide alternative matching rules for rows that fail to match using more strict criteria.
Proximal date match When you expect your transactions to occur close together in time, but not necessarily on the same day, then match them with a Proximal Date match type. You can specifiy how many days apart the transactions may be whilst still counting as matched.
Variable tolerance Choose the precision you require when comparing the values from each row.
Search match If your matching term is embedded somewhere within a longer field of text, use a Search match. In a Search match, the cell-value from one list is searched within the cell values from the other list and a match is made where the value is found.
One-to-one reconciliation Reconcile single rows from one list with single rows from the other list. If several rows are found with the same matching criteria then Isolist chooses those closest in value to match first.
Named lists Give your lists a name to identify them easily in the reports produced by Isolist.
Source list result labels Appends a Reconciliation Status column to each source list range, showing the reconciled or not-reconciled status of each row directly against your original data. Where a row is reconciled one-to-one, the reconciliation status doubles as a hyperlink to the matching row in the opposite list.
Group-and-sum reconciliation Used for one-to-many or many-to-many matching. where Isolist finds multiple rows with the same matching criteria, their values are summed together before being compared with the row sum on the other side.
Customized reports When you need your reconciliation output in a specific layout or style, use a custom report template. Isolist completes the given template with the actual results from your reconciliation.
Standard reports Get clear, detailed output from your reconciliation process with a standard report. Standard reports can show unmatched rows, reconciled rows (either individually or grouped and summed) or merged rows (lists all rows from both lists side by side, with reconciled rows aligned).
Specify list by sheet This is the quickest and easiest way to tell Isolist which cell-range in your workbook contains a list to be reconciled. Simply select a worksheet and Isolist will search for the precise range containing your list data.
Configuration memory Isolist automatically memorizes the configuration you last used when reconciling, so there's no need to re-configure each time you run the same task.
Specify list by range When you need more control over which cell-range contains your list data, specify it by range, using the range address or the name of a named range.


When to use Isolist:
Whenever you need to compare two lists of data and find either the differences or the similarities. For example:
Between an earlier set of data and a newer one, e.g. closing balances to opening balances
At the interfaces between different ledgers or systems, e.g. between a CRM system and an order processing system, or between a sub-ledger and the general ledger
Reconciling two accounts that represent the same information, e.g. inter-company or branch office control accounts
Reconciling external records to your internal organisational data, e.g. a bank statement to your cash book transactions
When migrating data from an old system to a new one.
RELATED SOFTWARE DOWNLOADS FOR Isolist for Excel