Stock Quotes for Excel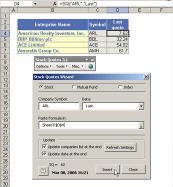 Stock Quotes for Excel is a powerfull Excel add-in that allows you to update Stock Quotes automatically, Market Indexes and Mutual Funds into your Excel spreadsheets. No more manual and tedious updates. No more risk of using outdated data.
Stock Quotes for Excel is like any other Excel function. When the function is inserted in any cell or inside a formula, the add-in refreshes the quotes automatically, indexes and funds with the latest data.
With Stock Quotes for Excel, you will obtain an historical report of the stock market quotations letting yourself to adjust the inicial and final dates using the tool: Data Downloader; Obtain more than 10,000 stock market quotations at the same time at only one click; Adjust as you wish the time to update the stock quotes and obtain all the data of a specific quotation in determined date using: Stock Quotes by Date Wizard.




Software Information
System Requirements
Version:
4.0.3

Windows ME/2000/XP/2003/2008/Vista/7
Excel 2007 or more
128 MB RAM

License:
Free to try, $84.95 to buy
File Size:
4.79 MB
Screenshot:
View Screenshot
Rating :
Key Features of Stock Quotes for Excel:
Options

Stock Quotes Wizard
This function retrieves online stock market index data from Yahoo! Finance.
Create a Watchlist Rapidly
Use this tool to quickly create a watchlist, as its name indicates.
Stock Quotes By Date Wizard
Use this wizard to enter the SQByDate( ) function to query for historical data.
HiperLynk to Web Services Wizard
This tool will enable you to very easily add to your spreadsheets, web links relating to a set of corporate symbols.
Stock Quotes - Quick fill
Use this functionality to quickly fill a column with the data queried.
Insert latest refresh (Date and Time)
Use Insert latest refresh (date and time) to insert the latest date and time when the data was updated .
Refresh Settings
With this functionality you can configure data refreshing options.
Data
The data you can retrieve from both sources are listed below.....
Data Downloader
Use this tool to download historical data of stock prices.
Search for Company's Symbols
With this tool, you can have direct access to MSN Money and Yahoo! Finance websites to check for company ticker symbols.
Retrieve the Company Name
With this tool you can retrieve the name of a company entering the appropriate tinker symbol.

Tools

Export Stock Quotes
Use this tool to get the Add-in to export retrieved stock and mutual fund data to a new Excel book.
Export Market Indexes
Use this tool to export stock market index data from with the Add-In from either of both data sources, Yahoo! Finance or MSN Money.
Export Sheet Values
Use Export Sheet Values to export the worksheet with the stock quotes or market indexes functions used in a new worksheet with values.
Cell's math by format
Use this gainful tool to search all cells in a specific range with a particular background color and to do some math with the results.
Multiple Conditional analysis & formatting
It gives format to cells in a database, based on previously established criteria defined in a decision table.
Select by Format
This tool selects cells of a given range, but only taking into account those with a given format.

Miscellaneous

Toggle Settings
We often lose valuable time doing repetitive tasks -if, for example, we want to hide the headings in several sheets of the Workbook....
Freeze Panes
We sometimes work with models whose information does not fit in the screen. And we may get lost as we navigate throughout the spreadsheet .....
Guides
This tool is specially convenient if you want to navigate throughout databases with records or fields stretching beyond the screen.
Arithmetic Calculator
With it you can make arithmetic operations quickly from the selected cells and using its GET and PASTE buttons.
Change Color Palette
Change Excel's color palette, making it possible for you to have fresh colors with a more professional and personalized tone.
Alternate Rows Shading
When you use this tool you will be able to format cells with a conditional format in an alternate basis, providing cell color and border formats.
Sheets Manager
Use Sheet Manager –a comprehensive tool that will make any worksheet management task easier to you.
Refresh Data
In this window you can choose the functions to refresh in order to download the values from Yahoo Finance y MSN Money.
RELATED SOFTWARE DOWNLOADS FOR STOCK QUOTES FOR EXCEL