HoudahSpot 2: Leopard Edition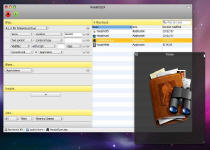 Your mom told you: Clean up, if you ever want to find your stuff again. Well, she didn't know HoudahSpot! HoudahSpot is an easy-to-use file search tool for the Mac. It enables users to quickly create and store powerful search queries.
Unleash the full power of Spotlight to find, manage and clean up your files.
Don't search! Find!
With HoudahSpot your files are at your fingertips. Keep frequently used files within reach. Retrieve the files you didn't know you still had. Create detailed queries to pinpoint the exact file you want to get to. Save queries for direct access to your favorite files. Set up templates for frequently performed searches. Use HoudahSpot for some housekeeping (Hi, Mom!). You could ask HoudahSpot to find all music files not yet in your Music folder. Just drag the results to your Music folder.




Software Information
System Requirements
Version:
2.2.1

Mac OS X, Mac OS X 10.5 Leopard with Spotlight enabled

File Size:
1.62 MB
License:
Free to try, $25.85 to buy
Screenshot:
View Screenshot
Rating :
Key Features of HoudahSpot 2:
Complex Searches. Made Easy!
HoudahSpot has been designed from the ground up with ease of use and convenience in mind. You will feel right at home. We feel it is not the user who needs to be educated, but the software that should be made to the user's need.
Highly Customizable
HoudahSpot may save your queries as documents. These documents remember not only the search criteria, but also the list of displayed columns, the sort order, whether the query is active or not, …. Documents saved as templates are always available from the menu bar.

Create a preferred template to serve as starting point for all your future HoudahSpot documents. That's right: you can preset all aspects of a new document.
Find by Example
It's never been easier to find similar files. Drag a file to a criteria and it will reflect the file's property.

To find all Microsoft Word files, just drag one such file onto the "Content Type" criterion
Query Stationaries
You may save your queries for later reference. A query set up with a few basic criteria and a search scope might serve as a starting point for future searches.
Versatile
It all starts with a basic query form. Take it from there to pinpoint the files you are looking for.

With HoudahSpot you may search by name, contents, date, type or any other file attribute. HoudahSpot knows all attributes indexed by Spotlight. You can query, show or sort by any of these attributes.
Saved Searches
Saved searches are much like smart folders. When saving a search its run state and result sort order are saved along with the query. A search saved while running jumps back to life as soon as it is opened.
All-in-one Interface
See the search results next to the query criteria. Results are updated as you modify the criteria.
Exclude by Location
Alongside a scope for the search you may define a list of places to ignore.
Limit Output
E.g. show only the 100 most recently opened files
Unlimited Columns
Show and sort by any attribute you can think of.
Fast
HoudahSpot leverages Apple's powerful and fast Spotlight engine. It does not waste this engine's horsepower to run searches before you are done entering criteria. The search starts when you are ready: at your command.
Powerful
Behind the pretty interface hides the power to find files hidden in the darkest corners. Boolean logic allows you to pinpoint files with deadly accuracy.
Live Results
Search results remain up-to-date as long as they are on screen. Create a new file and it instantly shows up in the searches that match it.
QuickLook
Preview your files using Apple's QuickLook technology
Copy-Paste Support
Copy from the result list to your favorite text editor or spreadsheet.
RELATED SOFTWARE DOWNLOADS FOR HOUDAHSPOT 2: LEOPARD EDITION