Space Hound 4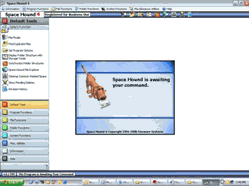 Sniff out wasted space with The Duplicate File Finder available. Space Hound 4 eliminates duplicate and unused files that are cluttering up your hard drive and causing problems. Make your operations faster because your system doesn't have to look through thousands of unnecessary files to find the ones you need. Now, much more than a duplicate File finder... Space Hound 4 is an education about the files on your computer. Uncludes File & Directory Management, Zip & Unzip, file Viewers, Hex viewer, icon Viewer, more.
The overall mission of the program is to "sniff out" wasted space on your hard disk that is duplicated, obsolete, or simply forgotten.
Space Hound performs it's job by building specialized file lists which can be examined by the user.
Several primary displays guide you in identifying files which are duplicated, obsolete, and even help find files which may have been forgotten. Space Hound 4 provides the tools to assist you in determining which files fall into these categories.
In addition to helping you "sniff out" wasted and nonproductive disk space, the program provides excellent reporting and exporting capabilities to aid you in managing your data.
Space Hound comes equipped with an array of built-in viewers that support many popular types of documents, graphics, sound files, and archives. It also has a "junk" file removal feature that eliminates several types of files notorious for wasting space. Another strength of the program is its ability to generate lists of files based on your specific criteria -- including file masks, attributes, size, and date. You can even perform complex string searches, use a snapshot utility to compare drive/folder contents, compare files, verify shortcuts, print reports, and retrieve version information.


Download Trial 8.27 MB
Software Information
System Requirements
Version:
4.0

Windows 2000/XP/2003
Pentium or similar processor
64MB RAM

File Size:
8.27 MB
License:
Free to try, $45.00 to buy
Screenshot:
View Screenshot
Rating:
Space Hound Features:
Find Duplicate Files You can search for duplicates in one of five ways: Duplicated on Name, Exact Duplicates, Content Only, sans-Extension, Microsoft Word Document Duplicate Content.
File Finder - Finds one or more files that meet a set of search requirements.
Space Hound Explorer - Similar to the My Computer drive and folder browser that is built into the Windows Operating System.
Files by Type - Determine the number, combined size, and locations of each identifiable file type.
Folder Structure with Storage Totals - Generate a tree view of all selected files in order to create a folder structure that shows where all of your available space is being consumed. Read more Here.
File System Snapshot - This tool allows you to capture the state of a selected set of folders and files and subsequently compare this to another snapshot at a later time. Useful to track changes to files, identify new files, discover missing files, etc.
Specialty Reports - This is a group of specialized search and display tools. Included are Program and Application Files, Microsoft Office Files, Shortcut Links and Program Information Files, and Microsoft Word Duplicate Content Search. Contact Fineware Systems if you have suggestions for additional tools.
Dependency Tool - Application programs typically use functions and capabilities located within other program and operating system components. This tool provides two functions. The first is a display of each file that was found to be a dependency of another program. You can select a specific file and see what those programs are. The second function is to create a database of these dependencies that is used with the Pending Deletes Display to help prevent files from being deleted that should not be deleted.
Pending Deletes - Space Hound offers a unique method for removing files from your system. As files are identified and selected for deletion, they are stored in a Pending Deletes List.
Synchronize Folders - You can compare two folders or two folder structures and identify the differences between them. Once analyzed, the program includes tools to synchronize the contents.
Identify Special Folders - Quickly identify the true location of system managed folders which have been assigned to maintain your documents and other files.
Mapped Drive Information - This tool provides a quick view of all of the drives which you currently have Mapped with a drive letter (i.e. A thru Z). Read more Here.
Cleanup Common Wasted Space - As a computer is used, a number of temporary files are created as well as other files which are created 'on demand' but not necessarily needed ever again. This tool allows you to perform a general cleanup of these files. Read more Here.
Identify System Protected Files - Windows helps prevent you from deleting important files. Read about Windows Protected Files Here as well as a special feature within Space Hound 4 that extends this protection.
Identify Registered Shared DLLs - Many files are used by more than one program. Identify these files Here and read about a special feature within Space Hound 4 that utilizes this Windows feature.
Display Active Processes - This is an extended view of the processes currently active on your system. Read about it Here as well as a special feature within Space Hound 4 that monitors these processes.
Display File Associations - This is a way to quickly see the Programs that various file types have been assigned to on your system.
Remove Applications - Although Windows itself provides this functionality, it doesn't provide a way to print a list of your installed applications. Our tool gives you this feature.
Manage File Attributes - Quickly manage file attributes (Read Only, Hidden, System, etc) on specific files or against entire folder structures.
Application Statistics - Space Hound tracks the number and combined size of files which are manipulated (Deleted, Moved, Copied) by the program.
Download Program Updates - This application is self-updating. If you click on this function, the program goes online to see if there is a new update available. If so, it is downloaded and the installation program is launched. When it completes, you will be using the most recent version available.
Revision History - This will be updated to indicate the changes that occur within each minor release of the program.
Program and Application Files - This is similar to the Find Files Tool however the resulting display includes a number of additional columns which contain embedded version information.
Microsoft Office Files - This is similar to the Find Files Tool however the resulting display includes a number of additional columns which contain embedded information such as document author, last revised date, various statistics, etc. Note: Unless Microsoft Documents are saved with full document properties, they won't show here either.
Shortcut Links and Program Information Files - Quickly examine the various shortcut links on your system to determine which ones are still valid.
Microsoft Word Duplicate Content Search - A unique tool that understands the content. Similar tools are available costing hundreds of dollars.