Colla-Doc Standard Edition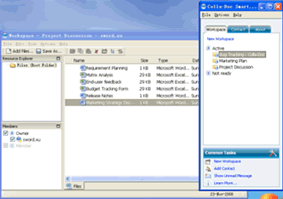 Colla-Doc standard Edition is a collaborative document software, with standard collaborative features.
Colla-Doc is the client software that enables individuals to work as teams within virtual workspaces to accomplish collaborative tasks. Individuals can form a team by creating workspaces, combining different applications (plug-in) and data, and inviting other Colla-Doc users to join the workspace as collaborator. Collaborators can use the workspace to store and update documents, presentations, and other essential information.
A Colla-Doc workspace doesn't reside on a server. Instead, every collaborator has an identical copy of the workspace on their desktop. When someone makes a change, he/she can distribute it to the other members and keeping everyone's information synchronized. This locally stored workspace content enables collaborators to view and update documents even when they don't have Internet or network access.
Even if connectivity is available but slow, Colla-Doc is a good choice for collaboration because its synchronization engine distributes only file changes (delta changes) rather than whole files. If a colleague edits one label on a 10 MB blueprint, for example, Colla-Doc will send just the few altered bytes instead of the entire massive file.
Colla-Doc is an application that sits directly on a user's PC, not on a website nor centralized server. All application logic and data is stored locally on the desktop of each member of a shared space and is totally secure. All content and activities made by any member of a shared space are immediately synchronized on the desktops of the other members and are encrypted over-the-wire. Because Colla-Doc runs locally on the desktop, all users maintain full access to all content and functionality while offline. When a user reconnects, Colla-Doc's synchronization capabilities automatically ensure everyone's application and its content are up-to-date.





Software Information
System Requirements
Version:
1.4.5

Windows XP,2003
500 megahertz (MHz) processor or higher
256 megabyte (MB) RAM or higher

File Size:
10.5 MB
License:
Free to try, $29.95 to buy
Screenshot:
View Screenshot
Rating :
Features for Colla-Doc Standard Edition:
Workspace Synchronization Automatically: Unlike a master-slave system in which there is a single instance of an application and its associated content, the Colla-Doc application and its contents reside in their entirety on multiple endpoints. Colla-Doc synchronization ensures that each endpoint has a complete and consistent copy.
Offline usage: A direct result of that synchronization is the ability to use any Colla-Doc application while disconnected from the network. Any changes made to the application by any of the participants are propagated across the network. When the offline user returns to the network, all changes are forwarded and synchronized, even if other users have gone offline in the meantime.
Firewall traversal: Colla-Doc includes intelligent routing capabilities that allow traffic to transparently cross any firewall or network address translator boundaries. Colla-Doc software detects the presence of a firewall and determines the most efficient ports and protocols through which it can pass.
Always-on encryption: Colla-Doc software automatically generates a public/private key pair for encryption when the software is installed on the personal computer. Colla-Doc software intelligently distributes encryption keys among users in a way that is completely transparent, ensuring that all activity enjoys military-grade encryption without any intervention (or even knowledge of encryption) required on the part of end users or IT staff.
Create workspace via wizard: You can create a Colla-Doc workspace right on your computer via easy used wizard. Then invite your colleagues, partners, and customers without worrying about networks or servers.
Compare the revisions: You can use this user friendly interface to compare the different revisions of single, local file whatever it is located in your workspace or comes from other collaborators.
Merge the revisions: You can use this user friendly interface to merge the different revisions of single, local file whatever it is located in your workspace or comes from other collaborators.
Comprehensive suport for SMTP/POP3/Exchange Server: You can send/receive your collaborative documents via this robust SMTP/POP3/Exchange Server services. This is the default communication plug-in, you can easily to choose alternative way to collaborate with your colleagures, partners and customers.
Support networking share folder resides on Intranet or LAN to collaborate documents: You can create a Colla-Doc workspace right on net folder or file server, then invite your colleagues, partners, and customers to collaborate this workspace.
Many bug fixes
RELATED SOFTWARE DOWNLOADS FOR COLLA-DOC STANDARD EDITION