BatchXSLT for InDesign CS5 for Mac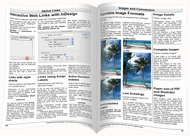 "The most powerful yet easy-to-use Mac document exporter available!"
A One-Touch Document Exporter/Transformer which creates "All Purpose XML" and a full featured flip page eBook HTML web site with a single mouse click or in fully automated batch mode.

Converts InDesign CS5 documents into an easy to understand general purpose XML format and to a 'ready to use' flip page eBook on Mac OS X, effortless, without having to go through a long configuration process for each document. It also converts original high resolution images (like PDF, EPS or TIFF) to the JPEG format usable on the web.
The exported XML or HTML data may be used and viewed 'as is' as flip page eBook. As the data is plain understandable XML, it may be used for any other purpose like database archives, to distribute on a CD or to create an own dedicated output format matching a certain DTD.
Software Information
System Requirements
Version:
5.5

Mac OSX 10.5 or newer
Any machine running Java 1.5 and newer
InDesign CS5.5, CS5.

File Size:
120 MB
License:
Free to try, $669.00 to buy
Screenshot:
View Screenshot
Rating :
Output Formats:
Plain XML and HTML - NO FLASH. XML suitable for any application.
Flip Page eBook as XML and HTML for PC screens
Slide Page eBook as XML and HTML for PC & touch screen devices
Simplified XML
Article List as XML and HTML
XML Tree
expandable with your own dedicated XSL transformation, JAVA libraries, JavaScript to adjust the output exactly fitting your application
BatchXSLT for InDesign is designed for: InDesign CS5/CS5.5 Intel, OSX 10.5+
Mac BatchXSLT for InDesign CS5 Key Features:
Export InDesign documents with a click or fully automated in batch mode
Simple: No XML-Tagging, no programming, no XML skills needed
Creates article groups including linked images
Exports article and box positions on a page
Active clickable links to shops, web-sites, internal pages, email addresses and more
Exports scalable images as JPEG, GIF or PNG for the web applications. Image sizes as a scale factor, fixed width or height in pixel
Export images from original or like cropped and shown in InDesign
Sharpen, adjust brightness and contrast and around 30 other effects for exported JPEGs
Ad script tags to boxes for dynamic actions and additional information
Export and playback of movies and sound
Mark boxes and images which should not be exported (like background boxes or adds)
Export of InDesign text variables
Exports PDFs from whole documents and single pages with adjustable resolution
Touch screen support for Tablet PCs and Smart Phones
Full-Text Search on multiple issues and on PDF ads
Use 'as is' without modification or integrate in an existing web site
Web site adjustable with external CSS and JavaScript
Multi-lingual (E,D,F) extensible for any language
Tool to upload exported data to a web server
Including a flip page eBook web system with archive function
Tool to create and load the full-text search database
osCommerce shop connection (optional)
... and more ...
RELATED SOFTWARE DOWNLOADS FOR BATCHXSLT FOR INDESIGN FOR MAC OS X