mxORB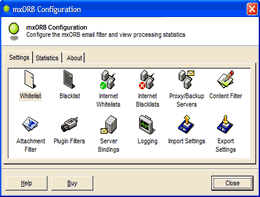 mxORB is a server-side spam filter that consistently blocks over 98% of spam at a fraction of the cost of other filtering solutions. mxORB is packed with all of the features you will need to eliminate spam.
mxORB can be deployed in two different ways, either directly on your Exchange Server system, or on a separate IIS SMTP mail relay system. mxORB makes use of a number of techniques to filter spam, including: use of real-time Internet databases of known spam senders; filtering that blocks messages based on their content; and attachment filters that can reduce the risk of security incidents such as virus infection. All filtering is performed on the server-side allowing you to protect your email system without the need to configure individual client workstations.


Download Trial 5.40 MB
Software Information
System Requirements
Version:
2.2.3

Windows 9x/Me/NT/2000/XP
Pentium or similar processor
64MB RAM

File Size:
5.40 MB
License:
Free to try, $345.00 to buy
Screenshot:
View Screenshot
Rating:
mxORB spam filter Features:
Whitelist
The whitelist allows you to exclude messages from filtering using the sender's email address, the recipient's email address, or a range of IP addresses that the message is from. Email addresses can also be specified using regular expressions that allow messages to be whitelisted if the address matches a specific pattern.
Blacklist
The blacklist allows you to specify messages from or to specific email addresses, or from a range of IP addresses that should always be filtered. Email addresses can also be specified using regular expressions that allow messages to be blacklisted if the address matches a specific pattern.
The blacklist allows you to easily filter all messages from sources you identify as sending large amounts of spam, without the need for time consuming Internet database queries.
Internet whitelists
mxORB is unique in its ability to utilise multiple DNS based Internet whitelists to identify trusted email senders.
Internet blacklists
mxORB can utilise two types of Internet blacklist: DNS blacklists (DNSBLs) that use the IP address of the server used to send messages; and RHS blacklists (RHSBLs) that use the email address of the message sender to identify spam. It is also possible to use DNS blacklists such as countries.nerd.dk to perform geo-location filtering, enabling you to filter messages based on the country they originate from.
mxORB performs message header analysis if a message is received via a proxy server or from a backup mail server in order to identify other mail servers that the message has passed through, and can utilise multiple DNS and RHS queries during message processing.
Content filter
The mxORB content filter enables you to specify keywords, phrases and regular expression patterns that if found in the message subject or body will cause the message to be filtered. mxORB features three content filters: a subject filter; a text body filter for plain text messages; and a HTML body filter for messages that use HTML formatting.
Attachment filter
mxORB can filter attachments by file name and by MIME content type. File name filters can be specified using regular expression matches, and can be used to prevent attachments with specific file extensions (e.g. EXE, PIF or COM files) from ever reaching your users, reducing the risk of virus infections.
The attachment filter can also allow messages to be delivered with attachments removed, and attachments can be quarantined for manual inspection before being delivered to the recipient.
Anti-virus filters
mxORB features a set of anti-virus plugin filters capable of detecting emails with attachments that are potentially infected with variants of the Bagle, MyDoom, Netsky and Zafi viruses. While not a replacement for full anti-virus software, the mxORB filters can substantially reduce the risk of infected emails reaching your users, and reduce the amount of email traffic and storage space requirements created by these viruses.
Anti-spamware filters
mxORB features anti-spamware plugin filters that scan message headers for known characteristics of emails generated by spamware, for example mass-mailing software.
Customisable filter actions
mxORB gives you complete control over the action to be taken with filtered messages. You can specify a different action for each type of filter, and can select from various actions including: deliver to recipient with a warning message, move to badmail folder, move to a specified folder and message deletion.
Statistics
mxORB gathers statistics on the number of messages checked and blocked by each type of filter. These statistics can be used to tweak mxORB settings and can also be exported to XML format for use with presentation software such as Microsoft PowerPoint.
Logging
mxORB provides detailed logging of the processing carried out on messages. The level of logging is customisable, with logging information being saved in a text file that can be viewed in any text file viewer, and provides useful information including the reason for a message being filtered.
Import and export settings
mxORB settings can be imported and exported using XML, allowing you to share settings across servers, easily perform backups and share information with third party applications.
Pre-configured and ready to go!
mxORB is pre-configured with multiple Internet whitelist and blacklist entries, content and attachment filters and blacklisted email addresses based on our own mxORB configuration.
You can be effectively filtering spam within minutes of installation - mxORB is ready to go!