Print2CAD Converter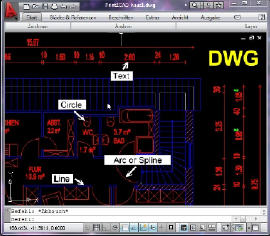 Print2CAD 2011 Software is a stand alone Windows (32 and 64) program that works independently with all CAD systems (and all AutoCAD versions). It converts PDF files into a DWG or DXF file that can then be converted into a format to be imported into, and edited with any CAD system. Print2CAD also converts PDF into raster formats (TIFF, JPEG, etc.) and EPS (PostScript). Print2CAD also converts DWG or DXF into PDF files. You don't need a CAD system or AutoCAD to use Print2CAD program. Print2CAD is based on the original Adobe PDF libraries, and therefore converts the files directly into a DWG, DXF or a raster file. The resulting files then have excellent accuracy and quality. Print2CAD also supports the newest version of PDF. Print2CAD converts files into DWG version 14, 2000 - 2011 or DXF version 12, 2000-2011. All vectors, lines, circles, arcs, surfaces, splines, text, and pixel images are transferred into DWG or DXF. The pixel images can be converted into vectors, embedded or stored in separate files. Special functions generate circles and arcs. PDF layer structure is supported, or if not available, this can be created on the basis of color or line widths. PDF characters are put together to create new texts. PDF properties such as line widths and line types are also converted into CAD properties. Print2CAD converts PDF colors into CAD indexed colors or full RGB colors. Print2CAD also supports TTF fonts. With multi-page PDF documents, you can specify which pages to be converted.



Software Information
System Requirements
File Size:
358 KB

Windows XP/Vista/Win7 (32bit,64bit)
256 MB RAM
CPU - 350 Mhz

Version:
2011
License:
Free to try, $149.00 to buy
Screenshot :
View Screenshot
Rating :
Print2CAD Converter Highlights:
Print2CAD 2011 features Autodesk® RealDWG™ technology
Print2CAD 2011 is based on original Adobe® PDF-Libraries
Print2CAD 2011 features Theiga® Technology
Print2CAD 2011 features Kazmierczak® Data Exchange Technology
PDF to TIFF conversion (LZW, G4, G3)
PDF to BMP, RAW, EPS, PNG conversion
TIFF to DWG or DXF conversion (for all CAD systems)
JPEG to DWG or DXF conversion (for all CAD systems)
DWG to PDF conversion
DXF to PDF conversion
DWG and DXF output with 100% Autodesk® and other CAD systems compatibility
PDF to DWG or DXF conversion (for all CAD systems)
PDF to JPEG conversion
Command line support
Vectorization of PDF raster images black / white or color
Vectorization of TIFF, JPEG raster images black / white or color
Conversion into DWG and DXF version 12 - 2000-2011
Support of PDF Texts
Support of PDF Layers
Extraction of pixel images as JPEG or TIFF files (optional)
Reconstruction of circles and arcs
Rotation and scaling of coordinates
Purge Polylines
Reconstruction of layer structure according to color, line width or type of element
RGB Color conversion
Start with thousands of files in one run
High precision of coordinates
Optimize polylines, generate circles, and arcs
Convert all PDF pages in separate DWG or DXF
Assign PDF line width to DWG or DXF entities
Extract embedded raster images from PDF as bmp, jpg, png or gif
Convert embedded raster images from PDF as solids or lines
Supports mirrored raster pictures in PDF
Supports TIFF and JPEG Vectorization.
RELATED SOFTWARE DOWNLOADS FOR Print2CAD Converter