Oberon CurveWorks for CorelDRAW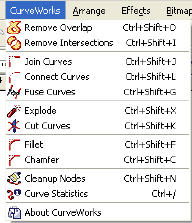 Oberon CurveWorks for CorelDRAW is a set of professional quality macros for working with curves to add some missing CAD features to CorelDRAW and help improve document editing workflow. Now it's possible to do more technical-oriented graphic work without using AutoCAD or other expensive packages.
Oberon CurveWorks for CorelDRAW has both Remove Overlap and Remove Intersections commands, they are very closely related. Both remove intersections from a curve. Whenever two segments intersect, these segments are broken apart at the intersection point and then regrouped in such a way that there is no intersection anymore while the look of the curve doesn't change. Join Curves/Connect Curves these two commands join open curves and forms a single closed curve by connecting the closest end points of the curves.
Fuse Curves commands is very similar to Connect or Join Curves commands but doesn't connect nodes that are even slightly off. Fuse Curves joins only points that overlap (sit exactly on top of each other). This command becomes especially useful when used in conjunction with Explode or Cut Curves commands as well as for joining certain imported CAD files that come in as a set of individual segments instead of a complete curve. It also has some more commands such as: Explode; Cut Curves; Fillet; Chamfer; Cleanup Nodes; Curve Statistics.




Software Information
System Requirements
Version:
1.3

Windows 8/7/XP/Vista
CorelDRAW 10 Service Pack 1 (10.427) or later
Visual Basic for Applications

License:
Free to try, $49.95 to buy
Screenshot:
View Screenshot
File Size:
346 KB
Rating :
Key Features of Oberon CurveWorks for CorelDRAW:
Remove Overlap and Remove Intersections: remove overlapping areas of a curve:
Connect Curves and Join Curves: join open curves together to form a single closed curve:
Fuse Curves: joins open curves whose endpoints coincide.
Explode: breaks apart curves so each segment becomes an independent curve object.
Cut Curves: divides curves at each intersection point:
Fillet and Chamfer: create round/beveled corners for any cusp curve node:
Cleanup Nodes: removes any overlapping nodes
Curve Statistics: reports the total curve length and area as well as other curve information. (New: CurveWorks 1.3 introduces modeless dialog with ability to copy curve statistics data onto the system clipboard as text).
RELATED SOFTWARE DOWNLOADS FOR OBERON CURVEWORKS FOR CORELDRAW